Buying your home insurance about three weeks ahead of the start date is likely to get you the cheapest price from a comparison site, cutting the cost by over 20%, an MSE investigation reveals.
You could save £100s a year knowing the cheapest time to buy your cover, compared with buying it at the last minute when insurers consider you to be a higher risk for not being more prepared, or worse still, if you were to auto-renew.
We've analysed more than three million quotes from January to June 2018 using data from the four biggest price comparison websites – Confused.com, Compare The Market, Gocompare and MoneySupermarket. Remarkably, all provided similar trends in pricing, with 17-30 days ahead being the sweet spot for cheaper cover, and 21 days ahead on average the optimum time to buy your home insurance.
This follows last week's investigation into the best day to buy car insurance, where we also found 21 days in advance was the cheapest time to buy, saving a staggering £550+ on average compared with buying it at the wrong time.
Buying from a comparison site is one of the best ways to bag cheap home insurance. See our Cheap Home Insurance guide for more tips to cut the cost.
What does the data show?
We looked at data for those who wanted a combined contents and buildings policy, buildings-only, or contents-only home insurance. Based on an average price for the millions of quotes returned on the price comparison sites, the cheapest time to buy in all categories was 21 days ahead. But even getting it 17-30 days ahead was significantly cheaper than getting it on the day, or day before, you need it to start.
The average premium for getting a combined policy on the optimum day averaged out at £148/year, but buy it on the day you need it and the average annual premium increased to £180/year – over 20% more expensive.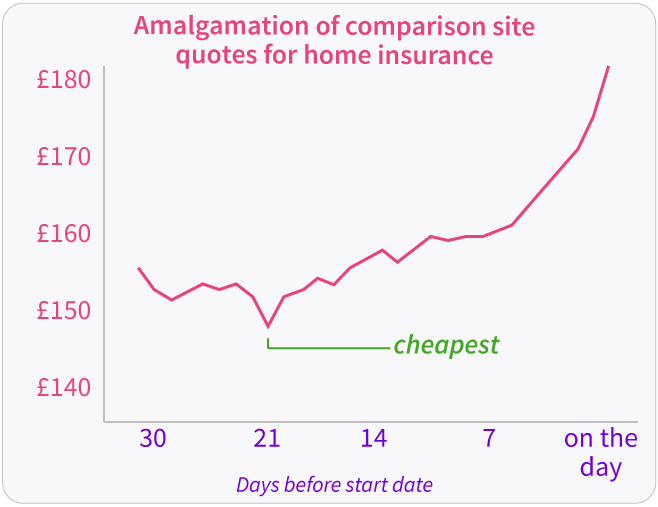 Note: These combined buildings and contents figures are averages and as your premium is tailored to you and your personal circumstances, your savings will likely be different. However, the general principle of when to buy your insurance to get the cheapest price still applies – and the sweet spot is the same for buildings-only and contents-only cover, with a similar saving of 20%+.
Why is there a price difference?
Quotations are based on a number of factors, such as where you live, type of home, the amount of cover you need, claims history, your job and much more – see our Cheap Home Insurance guide for full info.
We asked Gocompare, Compare The Market, Confused.com, Direct Line, Aviva, More Than and LV why the price differed depending on how far in advance you got the policy. All told us generally the same thing.
It's all based around risk – buying it three weeks before you need it suggests you're more careful and organised, while leaving it to the last minute means you're seen as higher risk – maybe the sort who rushes out of the house without checking all the doors and windows are locked.
Confused.com said: "The pricing information we receive from insurers suggests that lower-risk individuals tend to quote around three weeks in advance of their renewal date, and so this is reflected in the cost of their insurance premiums."
LV said: "Our historic claims data shows that riskier customers renew their policies nearer to renewal date."
Direct Line said: "Our claims data is based on years of experience and millions of policies and we see a correlation between last-minute purchasing and higher frequency and severity of claims."
Gocompare said: "While not on the same magnitude as car insurance, there is still a trend and evidence that those leaving the purchase of home insurance until the week before the start date are going to be paying more than those purchasing in the three weeks prior."
'Knowing when to pounce to bag the cheapest price is a game-changer'
Gary Caffell, money editor at MoneySavingExpert.com, said: "We've long known about the complex way insurers work out your premium, but knowing exactly when to pounce to bag the cheapest price on your home insurance is a game-changer.

"So don't wait until the last minute, plan ahead and use the sweet spot we've found to find the cheapest deals."
Will buying insurance 21 days in advance guarantee the best price?
Unfortunately there are no guarantees as prices can change frequently, but it definitely helps to avoid being stung with a hefty premium. Here are three steps to help you bag the cheapest price:
Lock in a rate 90 days ahead. Insurers Aviva, Direct Line*, Churchill and Privilege will allow you to fix a price or buy a policy up to 90 days ahead; John Lewis Insurance is valid for up to 60 days. So just lock in a few quotes to benchmark a price.
Check your renewal price. It's usually sent 28 days before it's due – call your provider if you don't get it.
21 days before you need cover to start, use the comparison sites. If you get a better quote than you've had so far, it's likely to be the cheapest you'll get.

More tips on getting the right price
If you're at renewal, it's easy. NEVER automatically accept your renewal quote – use our home insurance tips to bag the cheapest deal.
Combine the comparison sites to speedily find your cheapest deal. There's no single cheapest insurer, as prices are different for everyone, so check them all three weeks before you want your insurance to start.
Then check the biggies comparisons miss. Take note that Direct Line* and Aviva won't appear on comparison sites, and can be competitive.
Also check the hidden hot deals comparison sites miss. See our full list of current hot deals.