'We saved £960 on our train journey': is this the biggest split-ticketing success ever?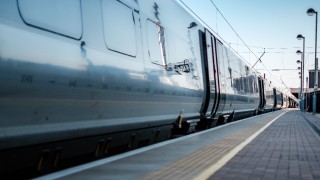 A group of 20 union members saved a combined £960 on train tickets to their annual general meeting – by splitting their return tickets into six journeys.
The group, who are all members of the National Association of Probation Officers, will travel from Newcastle to Southport in Merseyside at the start of October for their union's annual meeting.
Simon Lathbury, who is one of the members of the group, told MoneySavingExpert.com that they each saved £48 by splitting their return ticket into six journeys, meaning they paid £45 instead of £93.
They will travel from Newcastle to Carlisle, Carlisle to Wigan North Western and then walk about 60 metres to catch a final train from Wigan Wallgate to Southport. On their return journey they will travel from Southport to Manchester Victoria, Manchester Victoria to York and then York to Newcastle.
Although this ticket split success is shared between 20 people, it's one of the biggest savings overall that we've ever seen. Let us know if you can beat it by emailing news@moneysavingexpert.com.
See a full explanation of what split-ticketing is and our round-up of ticket splitting tools.
'We're going to the same stations at the same time'
Simon said the group decided to split their tickets after seeing the technique on MoneySavingExpert.com.
He said: "The site I used was called splitticketing.com. It was really easy to use and you can see three or four options regarding outward and return journeys at once.
"As there were so many of us we rang up – my colleague Mel sorted it – and they were great. We were able to book over the phone.
"They are the same trains and same changes as you would take with a full price ticket, and what a saving."
Have you had a more MoneySaving ticket split than this? Let us know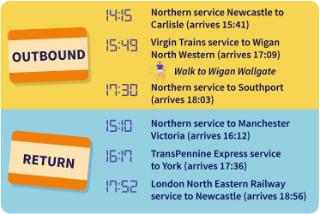 How you can split tickets to save money
Split ticketing is when you buy a ticket from your departure station to a station on the route you're travelling. You then buy another from that intermediate station to your destination.
You can split your ticket as many times as you like – it's perfectly legal as long as the train stops at the places you buy tickets to and from.
There are now two main dedicated split ticketing tools – TrainSplit and Ticketclever – which help you uncover where you can save. TrainSplit also powers a number of other ticket split sites.
When we did a snapshot test of them in February this year looking at 20 journeys across four routes, neither was the clear winner – but TrainSplit edged it, though it's worth noting it takes a 10% cut of the amount you save. So if you have time to check both, do.
Splitticketing.com, which Simon and the group used, charges a 15% fee on any saving you make. Whoever you check your split ticketing with, consider their charges when deciding if it's offering the best deal for you.
You can find details on these tools and other ways to save money on train tickets with our Cheap Train Tickets guide.
Why do you have to split tickets to get the best prices?
Train companies have told us in the past that split ticketing is the result of an outdated system of setting fares that was established decades ago.
The industry is currently consulting on updating ticketing rules.
The ticket consultation runs until 10 September and details can be found at Britain Runs on Rail.
For all the latest deals, guides and loopholes simply sign up today – it's spam-free!
Join the MSE Forum discussion