New Barclays app feature to show your accounts with seven other banks
Barclays has launched a new feature on its mobile app that will enable its customers to view their current accounts with seven other banks all in one place.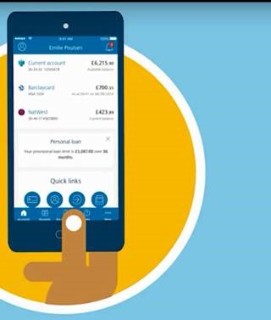 This free, optional feature on the app – which already rates well with MSE users – will be rolled out to all Barclays current account holders over the next few weeks.
It will allow customers who are also with Bank of Scotland, Halifax, Lloyds, Nationwide, NatWest, RBS or Santander to see their balances and transactions via the Barclays app – though you won't be able to use it to make transactions through the other banks.
Barclays is tight-lipped about which other banks it will extend this to include and when, but judging by its promo video it looks set to include First Direct, HSBC and M&S.
The new feature follows the introduction of 'Open Banking' in January, as well as new legislation called PSD2, which aims to make banking easier and fairer. It means that banks must ensure their customers' data can be shared securely with other banks and third parties if the customer gives permission.
If you're thinking of switching bank, see our Best Bank Accounts and App-based banking guides.
How does it work?
Barclays customers can choose from a list of seven other banks to securely add details of their other accounts onto the app.
They will then be directed to the other bank's app or online banking to give permission to share account information with Barclays. Users will never be asked to give login details, which means with one set of security details they can simply and quickly see all or most of their bank accounts.
Is it safe?
It uses API technology as set out under the new rules that came in earlier this year on data sharing to enable open banking. It ensures customers' accounts are linked into the app securely, without them ever needing to give out their other banks' user names or passwords. So if Barclays was ever hacked, the hackers wouldn't be able to get access to your other accounts connected to the app.
Users will also be able to view all their data permission history for added security and peace of mind, and can turn off access to other accounts whenever they want.
Barclays said: "Customers have the same protection that their bank offers them across traditional and web-based banking. If customers notice any issues with an account they have linked to us from another bank, we advise that they contact that bank immediately for further support and advice."
What else can the Barclays app do?
As well as letting you check your balance, see transactions and manage payees and recurring payments, the Barclays app lets you temporarily freeze your card and get PIN reminders.
The app ranked well in our last poll, with 47% saying it's 'great to use and has lots of features'. For more information and comparisons with other banking apps, check out our App-Based Banking guide.
If you've got a Barclays current account, you can apply for its Blue Rewards scheme which, for a £3 monthly fee, will pay you at least £7/month in cashback if you meet certain conditions – see our Best Bank Accounts guide for full info.
Are there similar apps available elsewhere?
There are several apps which show all your bank accounts and credit cards in one place, such as Money Dashboard and Yolt. HSBC was the first major bank in the UK to trial one last autumn with 10,000 customers.
What does Barclays say?
Catherine McGrath, managing director of retail banking at Barclays, said: "Today, lots of people have current accounts with more than one bank, so keeping track of your finances can be tricky as well as time-consuming.
"Our new feature is designed to solve this problem, offering a simple and secure way to get a clearer picture of your finances, all in the place six million of our customers already go to do their banking."
For all the latest deals, guides and loopholes simply sign up today – it's spam-free!
Join the MSE Forum discussion