Sky fibre customers to get free speed upgrade
Some Sky Fibre Unlimited customers are to be upgraded to faster Fibre Max for free, but those who've already forked out for the fastest speeds are unlikely to get any money back.
Sky has written to customers in a number of areas telling them it is upgrading its network, and can offer them faster average download speeds of 63Mb, rather than 36Mb, at no extra cost.
In a recent deal, Sky Fibre Unlimited cost £25 a month for 18 months, compared to Fibre Max which cost £27 a month.
But if you're already on Fibre Max, Sky says there'll be no change to your bill – so you won't get a discount.
See How to get cheap broadband to check if you're getting the best deal for you.
I've got Sky Fibre Unlimited – what can I expect?
The upgrades only affect some Sky Fibre Unlimited customers – not all customers will get the upgrade.
If you're a Sky Fibre Unlimited customer who is eligible for the free upgrade, you'll be sent a letter or email letting you know.
The letters we've seen say that Sky is upgrading its network "area by area" – we've asked Sky exactly which areas are being upgraded but its refusing to tell us.
So far, we've heard from customers in Berkshire, Gloucestershire, Greater Manchester, Hampshire, Leicestershire, Merseyside, Suffolk, West Sussex and the south east of Scotland who've received letters telling them about the upgrades - so it seems that the upgrades are taking place across the UK.
Here are the need-to-knows:
Your upgrade should take place within six months from when you received your letter or email. You'll have an outage of a few minutes when it does upgrade.


Your Sky Hub won't need replacing. You won't need any other equipment.


You won't be moved to a new contract. You won't be locked into a new contract because of the upgrade.


You can opt out. Though there's no obvious reason why you would. Just call Sky on 0333 759 4685 within 30 days of receiving your letter.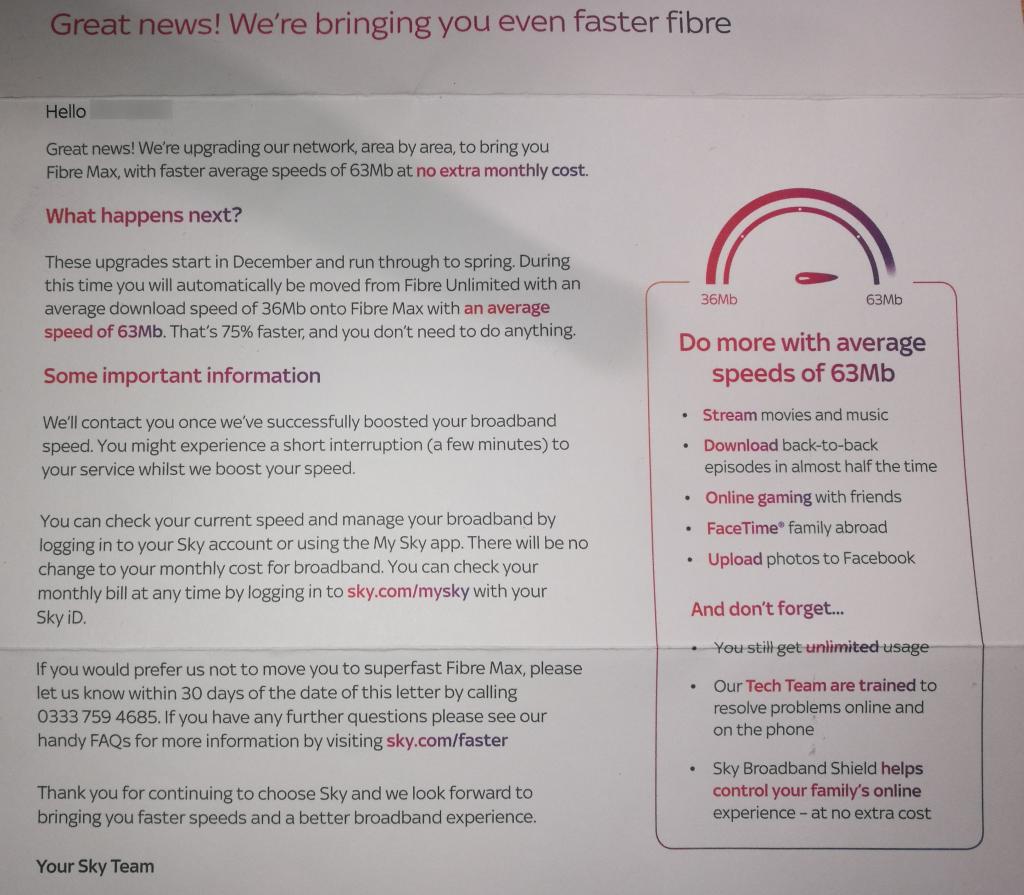 A letter about the changes can be seen above. MoneySavingExpert.com was shown the letter by insights agency FDM, which initially flagged the change.
Is the upgrade really free?
Sky's website says: "We've been working hard to improve your broadband speed and we can now boost your speed at no extra monthly cost."
Customers have also been told there will be no change to their current bills, but as with other deals Sky is retaining its ability to hike prices mid-contract.
Its website says: "The amount you pay may be subject to change but we'll let you know in advance of any further changes happening to the terms of your contract."
What if I'm already a Fibre Max customer?
Sky says that if you're already a Fibre Max customer, it won't make any changes to your broadband service, contract or monthly bill.
If you're mid-contract and unhappy about this, it's worth getting in touch with Sky to complain. You can try haggling a better deal, but if it refuses to do anything about it right now, remember to mention this issue when it comes to haggling a better deal the end of your contract.


If you're out of contract, check if you can find a better deal using our Broadband Unbundled tool.

Alternatively, if you want to stick with Sky you're in a great position to renegotiate a better deal. Check out our Sky Haggling guide for full help on how to do this.

If you do haggle a better deal, always check the length of the contract you're signing up to – a lot of Sky contracts are now for 18 months, so make sure you're happy being locked in for that long.
If you're successful in haggling a better deal, please let us know.
For all the latest deals, guides and loopholes simply sign up today – it's spam-free!
Join the MSE Forum discussion