Pothole damage payouts double after harsh winter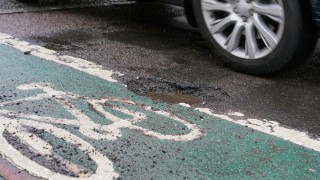 The number of successful pothole claims following incidents on motorways or major A roads more than doubled in the last financial year, according to new figures from Highways England.
The stats, published by the agency following a Freedom of Information (FOI) request, show 528 claims were upheld between April 2017 and April 2018, compared to 212 in 2016/17.
Over the same period, the average amount paid out for successful claims also rose slightly, from £283 to £311. Highways England says the total it paid out rose from £60,012 to £164,341.
The increase comes after an unusually harsh winter and multiple 'Beast from the East' snow storms, which likely resulted in more wear and tear on many roads.
The FOI data from Highways England also shows that the total number of potholes it filled in rose from 10,878 in 2016/17 to 16,642 in 2017/18, though overall spending on road maintenance dropped from £214 million to £209 million over the same period.
It's worth noting that Highways England is only responsible for dealing with potholes on motorways and major A roads in England – councils and other bodies are responsible for maintaining other roads. But the amount paid out is likely to cover only a small proportion of damage caused. In May, the AA estimated potholes were costing drivers and their insurers at least £1 million a month in car repairs across the UK.
My car has been damaged by a pothole – how do I claim?
We've full help on your rights and how to claim in our Pothole Claims guide, but in brief, if your vehicle is damaged by a pothole and the authority responsible for maintaining the road has failed to do so properly, you can successfully claim for the cost of repairs without having to involve your insurer.
To make a claim, follow these steps:
Measure the pothole. According to many local authorities, for a hole in the road to be considered a pothole it must be at least 40mm deep. If it's safe to do so, measure both the depth and width. If the hole that damaged your vehicle wasn't 40mm deep you can still claim, but it could be tougher to do so successfully.


Take notes and gather evidence. Again, provided it is safe to do so, take photos at the scene including pothole close-ups, its position in the road and any nearby road signs. Make a note and sketch of the pothole's position. If anyone saw you hit it, ask if they will give you a written statement.


Keep a record of the damage to your car. This is crucial as you're claiming for the cost of repairs, not general compensation. So keep all related bills and other paperwork, and ask the mechanic/garage that fixes your car for a written statement saying the damage was likely cause by a pothole.
Should I claim for pothole damage on my car insurance?
It is possible to claim for damage caused to your car by a pothole on your insurance, but you will need to factor in the cost of the repairs, the excess on your policy and the impact of any no-claims bonus you have.
Even if you choose not to claim on your insurance, insurers have told MoneySavingExpert.com that drivers should notify them of damage caused by potholes immediately. This will give you five or six months until you have to file an insurance claim, giving you time to see if it is possible to successfully claim from the authority responsible first.
But be aware that if you do notify your insurer, there is a risk your premium may be affected when you come to renew, even if you don't claim. It is impossible to quantify – and some big insurers have told us claiming won't affect your premium – but it is something to consider.
For full info, see Pothole Claims need-to-knows.
For all the latest deals, guides and loopholes simply sign up today – it's spam-free!
Join the MSE Forum discussion