Got an unused Oyster card? You could claim a share of £350m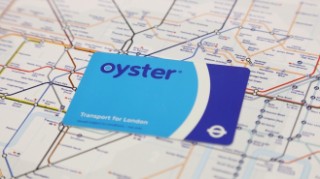 Millions of London commuters and visitors could pocket a share of the almost £350 million floating around on unused Oyster cards, after Transport for London's (TfL's) latest figures showed the pot of unclaimed cash increased by more than £60 million over the last 12 months.
The data also shows that between January and September this year there have been more than eight million incomplete journey charges – meaning people could be owed refunds of up to £5.60 for each.
If you've an old Oyster card you don't use any more, or you've recently travelled on TfL using an Oyster, contactless card or Apple Pay, you could be able to claim a share of millions of pounds of available refunds. Read more on how to claim below.
See our Oyster card refunds guide for more info on claiming cash back.
How much unclaimed money is there?
Oyster cards can be used across the TfL network, and are activated with a deposit – but 60 million of them are now 'dormant', meaning they haven't been used in the last 12 months.
According to TfL's latest figures, as of 30 September 2018, the total pay-as-you-go balance on these dormant cards was more than £173 million, and the deposits totalled more than £176 million.
This leaves the total unclaimed pile of cash at over £349 million – a £60 million increase from this time last year. The average balance on a dormant card (not including the deposit) is £2.93.
In addition, TfL charged customers a maximum fare for 8.1 million incomplete journeys between January and September – meaning many could be owed refunds.
An £8 incomplete journey fee is charged when a customer uses an Oyster card or contactless bank card to touch in at the start of their journey but doesn't touch out at the end.
How do I get a refund for an old Oyster card?
If you no longer need your Oyster card, you can get a refund for both the deposit and any leftover pay-as-you-go credit.
The amount you'll get will depend on how much deposit you paid and your remaining balance.
When the system was first launched in 2003 there was no deposit needed for an Oyster card, but in 2009 this was increased to £3 and then to £5 in January. Here's how to claim:
Online. To apply online, log on to your Oyster account (or sign up free). Select the Oyster card you'd like to be refunded (if it isn't registered, you'll need to link your card to your account first) and click on 'Apply for a product refund'. Follow the instructions to get a refund to your bank account.


By phone. To apply over the phone, call TfL customer services on 0343 222 1234 with your Oyster card details.


At stations. If you have £10 or less pay-as-you-go credit, you can get a refund at tube station ticket machines. Just touch your Oyster on the yellow card reader, select 'Oyster refund' and follow the instructions. The ticket machine will dispense a refund in cash.


By post. Write to TfL Customer Services, 4th Floor, 14 Pier Walk, London, SE10 0ES.
Once you've got your refund, your Oyster card will be stopped and you won't be able to use it any more – so make sure you definitely won't need it again before refunding it.
And what about an incomplete journey?
To find your incomplete journeys, first log in (or sign up for free) to the TfL website to check your journey history, and link your Oyster, contactless card or Apple Pay to your TfL account if you haven't already.

You'll then be able to view your journey history and find any journeys with a yellow warning triangle, which tells you that you've been charged a maximum fare.
To claim a refund, fill in TfL's online incomplete journey form with your info and an explanation of why you didn't touch out. The official rule is that you must've failed to touch out for reasons beyond your control – such as a broken machine or emergency evacuation – but we've heard TfL can be lenient on this, so it could be worth a punt anyway.
If you're successful, you'll be refunded the difference between the correct fare for your journey and the maximum fare you were charged.
Is there a cut-off date for getting a refund?
There's no time limit for getting a refund on a dormant Oyster card, as long as you're in credit.
If you want to claim for an incomplete journey, you'll need to do this within eight weeks on an Oyster card or 12 months on a contactless card (including Apple Pay).
What does TfL say?
Chief technology officer Shashi Verma said: "We're committed to ensuring that our customers can get back the credit on their Oyster cards if that is what they want.
"This is why we regularly publish the amount of credit on cards and how people can obtain a refund if they wish.
"Our research shows that Londoners hold on to their cards for use by visitors. Anyone travelling for a short time can now use contactless, where no deposit is needed and there will never be a remaining credit."
For all the latest deals, guides and loopholes simply sign up today – it's spam-free!
Join the MSE Forum discussion