Plastic bag charge could double to 10p and apply in ALL shops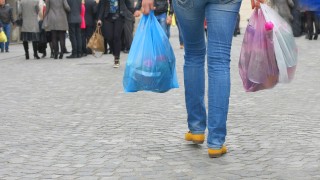 The Government has announced plans to increase the minimum 5p charge for buying a plastic bag in England to 10p and extend it to all retailers, in a bid to cut plastic use.
Since 2015, shoppers in England have had to pay at least 5p for every single-use plastic bag they buy when shopping at major stores. But the Government has said today it is consulting on plans to:
Increase the minimum charge to 10p.


Extend the charge to small and medium-sized retailers with fewer than 250 employees, which are currently exempt from the minimum charge.
The Department for Environment, Food & Rural Affairs says the current 5p minimum charge has already cut plastic bag use by 86% in major supermarkets, and it wants the new rules to encourage people to change their behaviour further and use less plastic.
Its consultation will run for the next eight weeks. If the proposals go ahead, the changes are scheduled to come into force in January 2020.
See Supermarket Shopping Tips for help on cutting your shopping bill, and also our 13 ways to use less plastic AND save cash.
How are plastic bag charges set to change?
The Government is proposing to increase the current 5p minimum charge for a bag to 10p.
It also plans to extend the charge to all retailers. It currently only applies to major stores with at least 250 employees, but it's estimated smaller retailers account for around 3.6 billion single-use plastic bags every year.
The Government says that trade bodies representing around 40,000 small retailers have already voluntarily signed up to charge the 5p fee – but this represents only a small proportion of England's estimated 253,000 small or medium-sized retailers.
Extending the charge to cover smaller retailers would bring England in line with Scotland, Wales and Northern Ireland, where minimum plastic bag charges already apply to shops of all sizes.
The plastic bag charge overhaul is the latest in a series of Government measures designed to cut plastic waste – for example, it's also consulting on a deposit return scheme for single-use drinks containers.
What is the money used for?
Retailers are encouraged to donate cash raised from the plastic bag charge to a charity or charities of their choice, but this isn't compulsory. Retailers can choose what to do with the money, but they must give the Government an annual report on what they do.
Government figures show that more than £51 million raised by the charge was donated to good causes in 2017/18.
How to avoid paying the plastic bag charge
The easiest way to avoid the plastic bag charge is simply to bring your own bags with you when shopping. Of course, they can be any brand. Doing this ensures you're saving cash AND avoiding using extra plastic – for more help, see our blog on 13 ways to use less plastic and save cash.
However, it's also worth noting that under the current rules, there are some scenarios when the plastic bag minimum charge in England DOESN'T apply – and the Government says there are no plans to change this:
It doesn't and won't apply to non-plastic bags. So there's no minimum charge set for paper bags, for example. The minimum charge also doesn't apply to bags with no handles, or bags which have previously been used.


It doesn't and won't apply to bags used for certain items. If you're using a bag only for the following items, there's no minimum charge:
- Uncooked fish, meat and poultry.
- Unwrapped food, such as chips, or food in containers likely to leak.
- Loose seeds, bulbs and flowers.
- Items such as potatoes with soil on them, plants and roots (eg, items such as ginger).
- Prescription medicines.
- Items bought while travelling, eg, on a train.
- Free promotional materials.
- Services such as dry cleaning or shoe repairs.
- Unwrapped blades.

Of course, shops can still choose to charge for bags in these cases – but they don't have to.
It's also worth noting that under the current rules there's no minimum charge for bags at airport shops in security-restricted areas. However, the Government wants to remove this exemption as part of the changes. This wouldn't affect the small clear plastic bags given out at some airports for carrying liquids in hand luggage.
What does the Government say?
Environment Secretary Michael Gove said: "The 5p single-use plastic carrier bag charge has been extremely successful in reducing the amount of plastic we use in our everyday lives. Between us, we have taken over 15 billion plastic bags out of circulation.
"But we want to do even more to protect our precious planet, and today's announcement will accelerate further behaviour change and build on the success of the existing charge."
For all the latest deals, guides and loopholes simply sign up today – it's spam-free!
Join the MSE Forum discussion