Councils taking days to repair severe potholes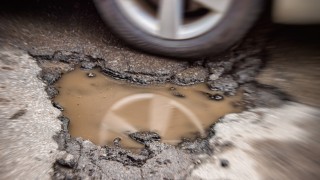 Councils' targets for fixing the most severe potholes on their roads vary wildly, with repairs taking minutes in some areas and up to three days elsewhere, according to new data.
The RAC Foundation sent Freedom of Information requests to highway authorities across Great Britain and found a huge disparity in response times for severe potholes, with three aiming to make urgent repairs "immediately" but five taking over 24 hours.
And as these times describe how long councils aim to take when repairing potholes, actual repair times may vary further.
See our Pothole Claims guide for how to check if you can make a claim if your vehicle's damaged by a pothole.
What do the figures show?
The quickest councils said they aim to take less than an hour to fix a severe pothole:
Cumbria, Flintshire and South Lanarkshire aimed to respond "immediately".
Harrow aimed to take half an hour.
Another 16 councils had targets to respond within an hour, while the most commonly listed response time was two hours, reported by 79 councils out of 190 to have responded to the FOI request.
At the other end of the spectrum, the slowest councils with target response times of more than 24 hours were:
Leicestershire at 72 hours
Cornwall and Isles of Scilly at 48 hours
Bournemouth at 36 hours
York at 34 hours

While about three-quarters of councils that responded said they use a risk-based approach to potholes – taking into account the type of road and how much traffic it carries as well as the size and depth of the pothole – most said they will only investigate a pothole if it's reported to be 40mm deep or more.

My motor has been damaged by a pothole – can I claim?
If your vehicle is damaged by a pothole and the authority responsible for maintaining the road failed to do so properly, it's often possible to claim for repairs. We've full step-by-step help in our Pothole Claims guide, but in brief:
Take photos at the scene. According to many councils, to count as a pothole, a hole must be at least 40mm deep. If the one you hit wasn't that deep you can still claim, but it could be tougher.


Take notes and gather evidence. If safe to do so, take photos at the scene, including close-up shots, road signs and the pothole's position in the road. Also make a note of its position – and if anyone saw you hit it, see if they will give you a written statement for evidence.


Keep evidence of the specific damage to your vehicle. Keep copies of your bills, and ask the mechanic who fixes your car to provide written evidence that the damage was likely caused by a pothole.
What does the RAC say?
Steve Gooding, director of the RAC Foundation, a registered charity that publishes research and advocates transport policy, said: "It is understandable that large rural authorities set themselves longer response times, simply as a result of having to travel further to effect repairs, but motorists might still be surprised to see such a wide variation across the country.
"Those particularly vulnerable to potholes – cyclists and motorcyclists – might ask whether the speed of pothole investigation should be based solely on the risk to users."
For all the latest deals, guides and loopholes simply sign up today – it's spam-free!
Join the MSE Forum discussion