Is your passport valid for travel to Europe post-Brexit? A new tool helps you check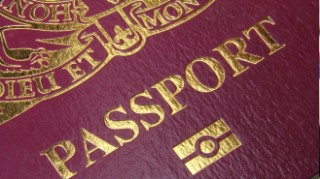 The Government has launched a free tool to help you check if you have enough time left on your passport to travel to Europe, in the event of a no-deal Brexit when the UK leaves the EU in March.
The service on the Gov.uk website allows users to check if their passport would be valid to travel to a list of European countries and regions such as the Azores and Madeira.
The UK is set to leave the European Union on 29 March, and if it does so without a deal, travellers going to many EU countries will have to renew their passport before travelling if it has less than six months' validity, or if it will be older than nine years and six months at the end of their trip.
Of course, if the UK does reach some form of deal with the EU, it's likely most aspects of our relationship with the European Union will continue at least until the end of 2020. If this is the case, travel rules will remain the same as now and you'll be able to use your passport to travel to EU countries as long as it's valid for the duration of your trip.
But given we may not know if there'll be a Brexit deal until close to 29 March, if you're travelling soon after that date and your passport would be invalid in a no-deal situation, it's worth renewing early to avoid getting caught out.
For a full rundown on the likely impact of leaving the EU on property prices, visas, flights, consumer rights and more, see our 25 Brexit need-to-knows.
How does the tool work?
The Government's passport checker tool asks you a series of questions and will then check if you will have enough time left on your UK passport to travel. It's worth remembering though, this only applies to travel after the UK leaves the EU on 29 March, and only if we leave without a Brexit deal, which is currently up in the air.
You'll need to put in where you're travelling to, when you are travelling, your date of birth, when your passport was issued and when it expires.
Why might my passport not be valid after 29 March?
At the moment, you can travel to any European Union country as long as you have a UK passport that is valid on the day you return. But if the UK leaves the EU without a deal, that's set to change.
In most EU countries, you'll need at least six months' validity
If there's a no-deal Brexit, British passport holders will be considered 'third country nationals' within what's called the Schengen area – made up of those countries that have officially abolished passport and all other types of border control at their mutual borders.

The following countries are in the Schengen area: Austria, Belgium, the Czech Republic, Denmark, Estonia, Finland, France, Germany, Greece, Hungary, Iceland, Italy, Latvia, Liechtenstein, Lithuania, Luxembourg, Malta, the Netherlands, Norway, Poland, Portugal, Slovakia, Slovenia, Spain, Sweden and Switzerland.
If you're going to one of these countries after a no-deal Brexit, you may need to renew your passport earlier than planned, as the following rules will apply:
You should have at least six months left on your passport from your date of arrival. This applies to adult and child passports.

You should have three months left on your passport on the date of your return to the UK. In theory, this will also apply if you leave the UK before 29 March but return after.


Extra months on your passport that bring its validity to over 10 years won't count. If you renewed a 10-year adult passport before it expired, extra months may have been added to your new passport's expiry date, making it valid for more than 10 years. But these months WON'T count towards the six months you need left on your passport from your date of arrival.
In most cases, therefore, adults will need to renew their passport by the time it is nine years and six months old.
With other European countries, the rules vary
Bulgaria, Croatia, Cyprus and Romania are in the EU but not in the Schengen area, and will have their own entry requirements for UK citizens after a no-deal Brexit, which may be different. The Government tool allows you to check whether your passport will be valid to visit these countries too.
Ireland isn't covered by the tool. You currently don't need a passport to travel to Ireland, although you do need to carry some form of ID. The Government says travel to Ireland will remain the same after the UK leaves the EU.
How do I renew my passport?
It can take three weeks for a standard passport renewal to go through, so if you are told you need a new passport it's worth planning ahead – even though there's currently huge uncertainty over Brexit and whether there'll be a deal between the UK and EU.
When working out timings it's worth considering other factors too - for instance, you may need your passport details in order to check in for a flight, and you may want to do that several weeks before you actually travel.
An online adult passport renewal costs £75.50, and you should only do it via the Gov.uk website – beware copycat websites which may try to charge you more.
Remember that as MoneySavingExpert.com revealed in September, if you renew your passport before it expires, validity from your old passport now won't carry forward onto your new one – so don't renew too far in advance of expiry.
For all the latest deals, guides and loopholes simply sign up today – it's spam-free!
Join the MSE Forum discussion