Reports of counterfeit banknotes plummet after shift to new fivers and tenners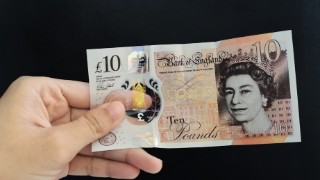 Fewer than five fake polymer £5 and £10 notes are being reported to the Bank of England each month, MoneySavingExpert.com can reveal – a massive reduction on the 1,000+ counterfeit notes spotted each month when the notes were still paper.
Figures we've obtained from the Bank of England under the Freedom of Information Act show that as of the end of April fake versions of the new £5 polymer note had been spotted just 46 times since its launch in September 2016, and there had been 63 reports of fake £10 polymer notes since it was released in September 2017.
By contrast, there were 11,039 reports of fake paper £10 notes in the six months before they went out of circulation, and 540 of the £5 notes in the six months before they were cut from circulation.
The Bank of England says the newer notes are harder to counterfeit because the move to a polymer material allows them to include extra security features.
As recently as March there were 222 million old £5 and £10 notes STILL out there – if you still have one down the back of the sofa, here's how to make it spendable again.
How to spot counterfeit notes
The Bank of England says most counterfeits of the new polymer banknotes are very poor quality and so most people would be able to easily spot them.
However if you're unsure, you can view close-ups of the new £5 note and new £10 note on the Bank of England website to compare to your own.
The links above also contain information on specific security features to look out for, which are hard to imitate. These include a see-through window on both notes, and the raised print of the phrase 'Bank of England'.
Given that there were 284 million polymer £5 notes and 1,022 million polymer £10 notes in circulation at the end of April 2019, the number of counterfeit notes is very low.
What does the Bank of England say?
A Bank of England spokesperson told us: "One of the key benefits of moving to polymer is that we're able to include enhanced security features which make our banknotes harder to counterfeit.
"Most of the counterfeits we've seen of the new polymer designs have been of a very poor quality that would be easily identifiable by members of the public. Counterfeiting is not a victimless crime, so we always encourage the public to check their banknotes and report anything suspicious to the police."
For all the latest deals, guides and loopholes simply sign up today – it's spam-free!
Join the MSE Forum discussion