Pizza Hut loyalty scheme hacker steals customers' free pizza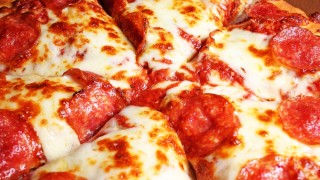 A hacker has logged into some Pizza Hut customers' 'Hut Rewards' accounts and stole their reward points, MoneySavingExpert.com can reveal – with one MoneySaver finding his points were used to order a medium BBQ meat feast pizza.
The restaurant chain says it believes a number of Hut Rewards accounts have been accessed by "an unauthorised third party", and some customers may have had their email address and password information "compromised".
It also says that some 'reward slices' – which customers collect to redeem free pizza or sides – may have disappeared from accounts. It's not disclosed how many customers have been affected or when the accounts are thought to have been hacked.
If you believe you may be affected, you should change your password as soon as possible.
See our 30+ Ways to Stop Scams guide for full help on staying safe online.
'Someone got into my account and spent my rewards on a free pizza'
One customer affected by the hack was Anthony from Milton Keynes.
Anthony told MoneySavingExpert that he got a confirmation email from Pizza Hut on Tuesday afternoon saying that someone called 'Jake' had ordered a pizza on his account. Anthony then got a further email asking him to rate the service.
Anthony told us: "I don't know any Jakes and definitely didn't have a pizza. The second puzzled me more – I got the survey as if I'd actually had a pizza. I tweeted Pizza Hut, joking about it to start with, saying who's Jake and where's my pizza?
"That's when I decided to order a pizza myself – all this talk of pizza and all. So I logged in and my address had been removed, name changed to Jake and mobile number updated.
"I also saw my Pizza Hut Rewards had gone – which is how they got their pizza. I phoned Jake's number and checked, and they exist and have a WhatsApp. Not brave enough to do more than hang up – some friends told me to ask if they enjoyed their pizza."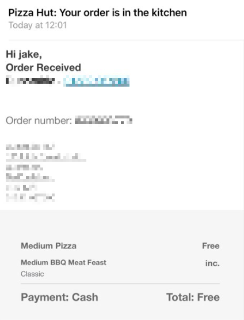 One of the messages Anthony received
How do I know if I've been hacked?
Pizza Hut has confirmed it believes a number of Hut Rewards accounts have been compromised, but it hasn't yet given us full details. We've asked how many customers were affected by the breach and will update this story when we hear back.
You may have been hacked if you've noticed any unusual activity on your account, but even if you haven't, it's worth logging into your Hut Rewards account, checking and changing your password as a precaution.
The pizza chain says it will reinstate any reward slices which have been taken from accounts, so if you've noticed something odd on your account, report it to Pizza Hut on 0800 028 7034.
What does Pizza Hut say?
A Pizza Hut spokesperson told us: "Pizza Hut is aware of this incident and we are speaking with the customer directly to resolve the issue.
"We believe an unauthorised third party has accessed some Hut Rewards accounts without the customer's permission. As a result, some Hut Rewards accounts may have experienced unusual activity and their email address and password information may be compromised.
"Customers may also have noticed that some of their reward slices are not available in their Hut Rewards account. As a precaution, we are advising customers with affected Hut Rewards accounts to change their password as soon as possible.
"We take consumers' data and security very seriously and we are looking into this issue as a priority."
We've contacted the Information Commissioner's Office to see if it's aware of the breach and will update this story when we hear back.
For all the latest deals, guides and loopholes simply sign up today – it's spam-free!
Join the MSE Forum discussion