Apple launches iPhone 13, 13 Mini, 13 Pro and 13 Pro Max – how to find the cheapest deals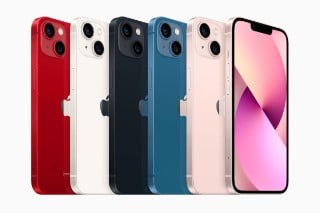 Tech giant Apple has just unveiled its new handset range, the iPhone 13, 13 Mini, 13 Pro and 13 Pro Max, while cutting the price of the now-older iPhone 12, 11 and SE. Buying a new iPhone is never MoneySaving and early adopters usually pay the most. We've got some tips on how to cut costs below.
All of the new models will be available to pre-order from Friday. Yet again, the latest iPhones won't come with headphones or a power adapter (you'll just get a USB-C to Lightning cable). This means those new to Apple or those with older equipment that is not compatible may need to buy these separately, with a USB-C power adapter costing £19 with Apple directly.
Use our Cheap Mobile Finder to compare thousands of contract and Sim-only deals across 50+ retailers and resellers, including the latest iPhone 13 deals.
What are the new models?
iPhone 13 Mini – its 'budget' model features an 'improved' dual-lens rear camera, a 5.4-inch screen with "longer battery life" than the now, older, iPhone 12 Mini. It starts at £679 for the 128GB model, rising to £979 for the 512GB storage version. Order from 1pm Fri 17 Sept, on sale Fri 24 Sept.
iPhone 13 – has the same features as the 13 Mini, albeit with a larger, 6.1-inch screen. It's £779 for the 128GB model, £1,079 for the 512GB model. Order from 1pm Fri 17 Sept, on sale Fri 24 Sept.
iPhone 13 Pro – it also has a 6.1-inch screen but comes with a triple-lens rear camera, which is reflected by a £949 starting price for the 128GB model, £1,449 for 1TB. Order from 1pm Fri 17 Sept, on sale Fri 24 Sept.
iPhone 13 Pro Max – Apple's top-spec model features a larger 6.7 inch screen and a triple-lens rear camera, which is more advanced than the one on the iPhone 13 Pro. It's £1,049 for the 128GB model, £1,549 for 1TB. Order from 1pm Fri 17 Sept, on sale Fri 24 Sept.
How to cut the cost of buying a brand-new iPhone
As the new models have only just been unveiled, there are no deals yet, though we are expecting them in the coming days. We'll be adding the best iPhone 13 deals to our Cheap Mobile Finder tool and our ​​Cheap iPhones guide as and when we get 'em. New models won't come cheap, but if you are set on them, here's how to cut costs.
First, do you REALLY need the latest mode? The prices of previous iPhone models have now come down, so if you want a fancy smartphone but aren't fussed about having the latest model, this is a cheaper way to get your hands on one.


If you're sure you want a new iPhone... wait a few weeks. Based on what we've seen in previous years, handsets are initially expensive but prices drop after launch, as the market settles and cheaper deals come through. This applies particularly to contracts, as upfront prices are less likely to move – but the longer you wait, the better the deals are likely to be.


Avoid paying for extra storage you don't need. There's a real price difference when it comes to storage, so don't buy more iPhone than you'll really use. See How to increase phone storage for free.


Avoid paying for extra data you don't need. Will you ever use that 100GB/month of data? Most won't and according to our most recent poll, 78% use 3GB/mth data or less. So it pays to check with your provider how much data you use each month on average. You can usually find this information by logging in to your account or you can use our handy Data Calculator tool to get a rough estimate.


Contract deals can be be the cheapest way – though never just go direct to the network. Contract deals from cheap mobile resellers such as Fonehouse, MobilePhonesDirect and Affordable Mobiles are often the cheapest way to get a new phone, and almost always beat going direct to the major networks. To be sure you're getting the best deal, use our Cheap Mobile Finder comparison tool – we'll tell you if it's cheaper to buy the phone on contract, or if you can save by buying it outright and pairing with a cheap Sim (which was historically the cheapest way)


Prefer to buy upfront? You can spread the cost of a new iPhone interest-free. If you're buying online via Apple, its monthly payment scheme allows you to pay over 24 months interest-free and works with all new iPhones. You pay a set amount each month – from £28.29/mth for the 128GB iPhone 13 Mini, to £64.54/mth for the 1TB iPhone 13 Pro Max – for 24 months. If you'd prefer to go in store, you can take advantage of Apple Payments, which works differently – see more on how these schemes work.

Prices for the iPhone 12 and other older models cut
As usually happens whenever iPhones are launched, Apple also slashes the cost of existing handsets, including its already 'budget' iPhone SE (prices below are based on 64GB models bought direct from Apple, though we expect other retailers to follow suit):
The iPhone 12 Mini is now £579, down from £699
The iPhone 12 is now £679 (was £799)
The iPhone 11 is now £489 (was £599)
The iPhone SE 2020 is now £389 (was £399)
See Apple for these latest prices and we'll update our Cheap Mobile Finder once other retailers follow suit.
Selling your old iPhone? Do it soon
Trends from previous years suggest that the value of your old iPhone usually drops after a new model's announced, and then falls further again shortly after new models go on sale in the UK.
When selling an old phone, always compare the prices offered by the big reselling sites using a mobile-phone recycling price-comparison service, or go it alone and flog it on Facebook Marketplace or eBay, where you can often sell for more. See our Sell Old Mobiles guide for full tips on ensuring you get the best price.
For all the latest deals, guides and loopholes simply sign up today – it's spam-free!
Join the MSE Forum discussion