All the major energy firms confirm massive price hikes from October – act now to avoid huge bill shock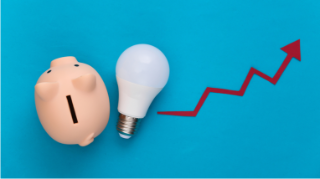 All the major energy suppliers have now confirmed massive price hikes to their standard variable tariffs from 1 October, after regulator Ofgem increased the maximum suppliers can charge under the energy price cap. We've rounded up the hikes from the major suppliers, including British Gas, E.on and EDF, and take you through how to beat 'em.
In August, energy regulator Ofgem announced it was raising the price cap on standard and default tariffs by £139/year for a typical user, to take effect on 1 October, due to rocketing wholesale prices (what providers pay for gas and electricity).
We've since seen supplier after supplier announce increases to their standard tariffs, to the max allowed under the price cap or very close to it – meaning huge hikes for millions.
To beat the hikes, check if you can save with a full market comparison via our free Cheap Energy Club, or if you find choosing a new tariff confusing, try our easier Pick Me A Tariff tools.
How providers are hiking prices
We've rounded up the price changes from the major suppliers and some of the more well-known medium-sized firms below. It's not an exhaustive list – but it covers the main suppliers that have revealed how their prices will change from 1 October.
As the table shows, virtually all of the big-name energy suppliers are pushing their standard rates to the max allowed under the new energy price cap, to £1,277/yr for a typical household paying by direct debit.
PROVIDER
CURRENT PRICES
PRICES FROM 1 OCT
Ofgem's energy price cap
£1,138/yr
£1,277/yr
British Gas/British Gas Evolve
£1,138/yr
£1,277/yr
E.on/E.on Next
£1,138/yr
£1,277/yr
EDF Energy
£1,138/yr
£1,277/yr
Scottish Power
£1,138/yr
£1,277/yr
SSE
£1,137/yr
£1,276/yr
Bulb
£1,126/yr
£1,277/yr
Igloo Energy
£1,078/yr
£1,229/yr
Ovo Energy
£1,137/yr
£1,277/yr
Shell Energy
£1,138/yr
£1,277/yr
So Energy
£1,132/yr
£1,276/yr
Utility Warehouse
£1,132/yr
£1,271/yr
Based on Ofgem figures for medium dual-fuel use, paying via monthly direct debit.
Bear in mind, the prices above aren't the maximum anyone will pay. The price cap – which most are following – sets a limit on the rates you pay for each unit of gas and electricity, so if you use more, you'll pay more.
Act now to beat the hikes – even if savings are small right now
Due to the massive spikes in wholesale energy prices this year, cheap deals have been disappearing fast – but don't let that put you off.
Compared to the new price cap, switching to the cheapest fix on the market can save an average £100/yr based on typical use – and it protects you from future hikes. So if you do a cheap 1yr fixed comparison you can lock in at a cheaper rate, and as the likelihood is over the next year the price cap will rise again, your real savings will be bigger.
Or if you're willing to go for a cheap variable, you could save even more. The cheapest right now is over £170/yr less than the price cap from 1 October. Yet be aware, while variable tariffs may undercut fixes right now, it's possible some are only cheap as they are about to imminently announce a hike.
You can use our Cheap Energy Club to compare the whole of the market or use our popular Pick Me A Tariff tools, where you tell us your preferences and we find your top tariff.
Struggling to pay your bill? There's lots of additional help available

Fortunately, there is help available if you're struggling. Emergency measures put in place to help people struggling with bills due to coronavirus are still ongoing. Most importantly, your supply won't be cut off – disconnections of standard credit meters have been suspended, while prepayment customers can get emergency or additional credit to ensure the lights stay on.

There are also a range of options suppliers can offer if you are struggling, including full payment plan reviews, affordable debt repayment plans, payment breaks or reductions, allowing you more time to pay and access to hardship funds. This is all done on a case-by-case basis, so contact your supplier as soon as you can if you do start to struggle.
In August, 26 suppliers – covering over 90% of households – also signed up to an industry commitment to reach out to those who most need help this winter. The commitments include a drive to increase awareness of the help available, to make it easier for customers in financial difficulties to get in touch, to improve bill accuracy and to step up smart meter installations for prepayment customers.
There are also a range of energy grants to help those on certain benefits with winter bills. For full info, see our Housing & Energy Grants guide, or check Ofgem's website for a full rundown of what's available and what to do if you're having difficulty paying.
For all the latest deals, guides and loopholes simply sign up today – it's spam-free!
Join the MSE Forum discussion