Nectar card-holders could save '£200/year' by downloading the Sainsbury's SmartShop app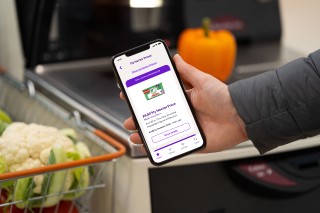 Nectar card-holders may be able to save "£200/year" at Sainsbury's when they use its SmartShop app to scan items as they shop in store, as it'll trigger cost-cutting deals of up to 30% off. If you don't have a smartphone, you can get the offers when you use in-store scanners, and this all on top of normal Nectar perks. However, you can't get these deals when shopping online.
The changes come as Sainsbury's scraps its popular Nectar 'double-up' event, saying that fewer customers have been using the scheme over the past few years. It adds that in comparison, its newly launched scheme offers lower prices all year round.
If you're planning a Sainsbury's shop, read our Supermarket shopping tips guide for 27 tools and tricks to slash food bills. If you shop elsewhere, read our tips on how to boost loyalty scheme perks, such as Tesco Clubcard, in our Loyalty points boosting guide.
What deals will you get?
You'll be regularly sent discounts based on your shopping habits, normally in tranches of about 10 at a time, and you can assess them before you shop.
You'll get discounts of up to 30% off products you frequently buy.

You'll get money off items and not multi-buy offers such as 'buy one, get one free'.
The discounts will be on branded and own-brand items.
Shoppers can also see how long the offers are valid for, and can use them multiple times before the expiry date. Once the offers have expired, you'll receive a new set of discounts. Be aware that Sainsbury's can pull offers at any time and each deal will have its own expiry date.
As items are picked in advance they may not be what you were planning to buy in the first place, so don't use this as an excuse to get something you wouldn't normally buy.
How much can you save? Is the £200/yr claim from Sainsbury's true?
The supermarket says many can save that £200/yr sum, though it remains to be seen whether that figure is accurate as it may take at least a year to verify. Meanwhile, offers are so personalised that deals for one person may be more worthwhile than for another.
To at least get some analysis done, one of our team assessed the offers he got this week. He was offered 10 discounts on products Sainsbury's reckons he would normally buy, varying between 15% and 25% off. So no 30% off deals.
He said he'd buy six of the 10 items again, so if he did that on a weekly basis (although he says he probably wouldn't) that would mean a saving of just under £140/yr.
Nevertheless, there is no cost to using the scheme so if you are shopping at Sainsbury's anyway, you may as well try to make the most of it.

How to access Sainsbury's SmartShop discounts
Here's how to get personalised discounts using SmartShop:
Firstly, sign up to Nectar if you haven't already. You can do this for free by registering for a card on the Nectar website.


You'll be sent your deals via the Nectar app or online at Nectar. This gives you a chance to assess them before you shop.


But to get the discounts you must scan items as you shop using Sainsbury's SmartShop app OR its in-store SmartShop handsets. The app – available for Apple and Android devices – and the in-store handset allow shoppers to scan items to tally up what they've spent, to speed up the checkout process, but in this case they also trigger the deals.

So buy what you'd normally buy, scan it, and if it qualifies for a discount under this scheme, you'll get money off. To use the SmartShop app, you'll need to link it to your Nectar card via the Nectar app. If you use the in-store scanner, you must scan your Nectar card. These handsets are available at the majority of Sainsbury's 770 UK stores.
You can continue to earn Nectar points and redeem other offers on top of SmartShop purchases
Sainsbury's shoppers who use SmartShop will continue to earn one Nectar point for every £1 spent in store. Once you hit 500 points, these are worth £2.50 to spend in store or online at Sainsbury's. You can also sometimes get a boost if you redeem points with companies Nectar has partnered with, via the Nectar website.
Shoppers will also continue to be sent bonus Nectar points on selected products as shown in their Nectar accounts, which they can use in the same transaction as any discounts earned using SmartShop. Sainsbury's stopped weekly Nectar bonus point offers for some shoppers in a mystery loyalty scheme shake-up earlier this year.
For all the latest deals, guides and loopholes simply sign up today – it's spam-free!
Join the MSE Forum discussion