Latest coronavirus 'traffic light' travel update due this week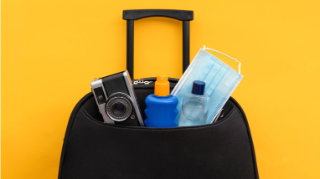 The next update of the coronavirus 'traffic light' travel system, used to govern the action holidaymakers take when they return to the UK from overseas, is due to take place on Friday 17 September. This is expected to provide the latest information on which destinations will feature on the Government's 'green', 'amber' and 'red' travel lists - but it could also see an overhaul of the system entirely.
Until now, the UK Government has updated its traffic light system every three weeks – usually on a Wednesday or a Thursday with the changes typically coming into force the following Sunday or Monday. We last had an announcement on Thursday 26 August with the changes taking force from 4am on Monday 30 August. This should have meant an announcement on Wednesday 15 September or Thursday 16 September.
However, the Department for Transport (DfT) is now due to make its next announcement on Friday 17 September. It's unclear when any changes would come into force, but if it follows previous announcements, they would likely take effect on Sunday 19 or Monday 20 September. The Northern Irish, Scottish and Welsh governments can set their own separate rules, but to date, they've maintained the same traffic light list as in England.
In addition, the Government has said it will review the future of the traffic light system as a whole before 1 October. An announcement on this may also take place on Friday 17 September, although this hasn't been officially confirmed.
It comes after the health secretary, Sajid Javid, told Sky News' Trevor Phillips on Sunday programme on 12 September that he wants to scrap PCR tests on return to the UK for fully vaccinated travellers as soon as he can. Mr Javid said: "The PCR test that is required upon your return to the UK from certain countries... I want to try and get rid of that as soon as I possibly can."
MoneySavingExpert.com will update our Coronavirus Travel Rights guide once we know more.
The destinations currently on the red, amber and green lists
Countries and territories are currently placed in one of three categories, as set out below. These categories determine the measures you must take on returning to the UK. The government says its traffic light lists are based on factors including the percentage of the country's population that has been vaccinated, the rate of infection, the prevalence of variants of concern, and the country's access to reliable scientific data.
See the current rules in the table below.
Category

Destinations on list

Rules on returning to England/ Northern Ireland/ Scotland/ Wales


Green

36, incl Australia, Austria, Barbados (1), Bulgaria, Canada, Croatia (1), Denmark, Finland, Germany, Gibraltar, Hong Kong, Iceland, Israel (1), Liechtenstein, Lithuania, Malta, New Zealand, Norway, Singapore, Switzerland, Taiwan (1) and the Azores.

See full Eng list / NI list / Scot list / Wal list


• Must take pre-departure test before returning

• Must also take PCR test within two days of returning to the UK

• DON'T need to quarantine on return, unless you get a positive result


Amber
140+, incl much of Europe (eg, France, Greece, Italy, Portugal, Spain incl Balearics), India, UAE and the USA

See full Eng list / Scot list / Wal list (no separate NI list)


Those fully vaccinated in the UK, US or most of Europe (or u18s who normally reside there) can follow the green rules above. Otherwise:


• Must take pre-departure test before returning

• Must also take PCR test on day two AND day eight after arriving back in the UK
• Must self-isolate for 10 days after arrival – can be at home
• You can end self-isolation early on day five by taking extra test (Eng only)


Red

60, incl Brazil, Cuba, Egypt, Indonesia, Maldives, Mexico, Montenegro, South Africa, Thailand, Tunisia and Uganda

• Must take pre-departure test before returning
• Must also take PCR test on day two AND day eight after arriving back in the UK
• Must undergo 10 days of managed quarantine in hotel, which could be pricey (currently single adult travellers are charged £1,750)
'Green watchlist' countries can turn amber with little notice

There are several countries and territories currently on the 'green watchlist', which means they're at risk of moving from green to amber, although this doesn't make a difference if you're double-vaccinated (or under 18) as the rules on returning to the UK are the same in this situation.
The destinations on the green watchlist are as follows:

Anguilla
Antarctica/British Antarctic Territory
Antigua and Barbuda
Barbados
Bermuda
British Indian Ocean Territory
Cayman Islands
Croatia
Dominica
Grenada
Israel and Jerusalem
Madeira
Montserrat

Pitcairn, Henderson, Ducie and Oeno Islands
Taiwan
Turks and Caicos Islands
For all the latest deals, guides and loopholes simply sign up today – it's spam-free!
Join the MSE Forum discussion