Martin: 'I feel sick writing this. The energy price cap's now predicted to rise 65% in October, taking typical bills to a horrific £3,240/year, then rising again in January'
Enjoy this week's warmth. The coming winter will be bleak, the cost of living crisis is set to climax in catastrophe, unless there is further intervention. I sounded an alarm for politicians on Radio 4 on Fri 8 July. I'd love to ask all Conservative leadership candidates what they propose to do to avert energy bill disaster, and when?
Though the clock is ticking, by the time the new PM is in place, we'll know the new price cap, so rising direct debits will be panicking millions. For now, let me explain what's coming, and try to mitigate it where I can. (PS: This isn't for N. Ireland, it has its own system.)
This info was first written by Martin and published in our weekly email on Wednesday 13 July – the MSE team updated it on Tuesday 19 July.
1. October price cap predictions have rocketed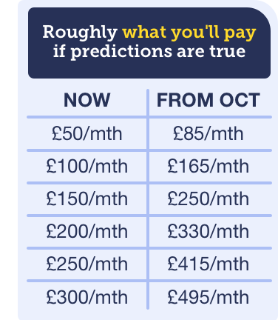 There's no absolute cap on energy costs. Every six months (soon to be every three months), a cap is set on gas & electricity unit rates and standing charges. This price cap is mostly predictable as it is dictated by regulator Ofgem's published algorithm, based mainly on year-ahead wholesale prices. These have spiked in recent weeks, so analysts Cornwall Insight's latest predictions are frightening...
Current cap: UP 54% on the prior one, so £1,971/yr for someone on 'typical use'.
1 Oct 22 - 31 Dec 22. Strong prediction: UP 65%, so £3,240/yr for 'typical use'. The prediction's strong, as this is based on wholesale prices from Feb to mid-Aug.
1 Jan 23 - 31 Mar 23. Prediction: UP 4%, so £3,360/yr for 'typical use'. Prediction accuracy is looser but ballpark.
1 Apr 23 - 30 Jun 23. Weak prediction: Previously this was thought to be when prices may drop, but currently that is less certain, or at least any price-fall will be small. So rates next April are still likely to be far higher than today.
I know many want predictions of the unit rates & standing charges, but that's unknowable, as the regulator decides the proportions each time. To put this all in context, though, if correct...
- From Oct, typical energy bills will cost a third of the new state pension, and a bigger proportion of the old one.
- The basic £400 energy bill reduction for all homes, due in Oct, was announced by Rishi Sunak in May. That help will be more than swallowed up just by the £450 increase in the prediction of the Oct price cap since May.
2. Should you fix now?
Based on those predictions, over the next year you'll pay 57% more than the current price cap for energy. So if you can find a fix at less than that, it's worth considering, though the cost of fixes have rocketed in the past fortnight too. Full help and analysis in my updated Should I fix? guide (incl a list of cheap fixes).
3. The first £326 of the £650 'cost of living' payment for those with lower incomes is being paid
Starting last Thu, over the next couple of weeks the first of 8 million payments for those on means-tested benefits will be automatically paid into bank accounts as part of May's Govt 'cost of living support' package. See who qualifies and what to do if it isn't paid when you expect it.

Not on benefits & struggling? Check our 10-min Benefits Calculator. Even if you only get a small amount, it may mean you're due the 2nd payment.
4. Pensioner on a low income? You may be due £650
Pension credit is a benefit that tops up your income, and crucially, if you're eligible you also get that £650 'cost of living' payment. Better still, even if you weren't eligible when it was announced, you can ask for it to be paid backdated - unlike other benefits - as long as you apply by 18 Aug. So do have a read of my quick Are you due pension credit? blog.

5. Changes to energy direct debit rules, standing charges, debt collection and more
On Wed 6 Jul I, together with the boss of Ovo, organised a meeting. He brought the chief executives of Brit Gas, Octopus, E.on, EDF and Shell, while I gathered key charities. The agenda was to try and deal with some low hanging fruit issues. It was a productive, action-orientated two hours. See what we agreed to work on regarding direct debits, standing orders, debt collection and more. We'll be reconvening in Sep.
6. Struggling but not eligible for the £150 council tax 'energy help' rebate?
If you didn't qualify (eg, you're not in bands A-D), there's a £169m discretionary fund for Eng and Wales. Almost half of councils have now published how to claim, see council-by-council help. If you're in bands A-D and haven't got it, see How to claim yours.
7. Put money aside to prepare now
I know that's a pipe dream for many. Yet for those who do have savings or currently spend less than you earn, putting some aside or even asking for your energy direct debit to rise should ease the winter cash-flow pain. Of course everyone should also check if a full money makeover can release cash.
8. Energy prices are already hell for many - some help may be available
9. Can you reduce your energy usage?
For all the latest deals, guides and loopholes simply sign up today – it's spam-free!