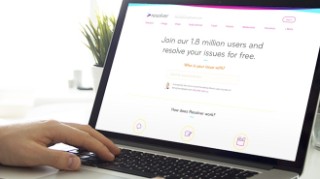 Resolver
How to use the free complaints tool
Complaining isn't always easy – companies can ignore you or try to scare you off with legalese. Yet you can use free online tool Resolver* to quickly file and track a complaint – it helps you draft a letter, send it, monitor replies and then escalate it to an ombudsman or complaints body if it's not sorted.

It's been over five years since we partnered with Resolver, and we've added the tool to many of our guides, marrying our campaigning know-how with its technology. Here's how it works.
For all the latest deals, guides and loopholes simply sign up today – it's spam-free!
How do I complain if the company I want to complain about isn't included? How do I complain if the company I want to complain about isn't included? It's worth noting while Resolver includes a huge number of firms, it won't include them all. If a company's not listed, you can ask Resolver to add it via a form on its website – but also see our How to complain guide for other options.
Is it any good? We think so – we've partnered with it for years and have had 100s of success stories from MoneySavers, such as the ones below (we'd love to hear what you think too – join the Resolver forum discussion and let us know):
We got back £3,300 from British Airways for our delayed flight to the USA recently – €600 per person. Thank you so much for the direction to use the Resolver website. So quick and easy.
- Deanne
Full refund of £500 from Extra Energy using Resolver – eight months of no help until I used it.
- Louisa
It's not perfect though. Sometimes companies will refuse to engage with complaints sent via Resolver, which can delay the process of getting a response.
How can it have template letters for every single eventuality? The vast majority of complaints are actually about very similar subjects, though the actual issue can differ by sector. So, if you've got a problem, first select the company you want to complain about, then you will see a list of initial options.

For example, if you're making a complaint about your gas or electricity supply to an energy firm, your choices will include:
Account details problem (including address changes)
Billing issue
Change of tariff problem
Complaint handling issue
Customer service issue
Debt related problem
Direct debit problem
Final bill issue
Installation or engineer visit problem
Meter reading problem
Smart meter issue
Switching supplier problem
Refund or credit issue
Sales and marketing issue
If you select 'complaint handling issue', for example, you will then be asked to select England, Scotland, Wales or Northern Ireland and you will be given your rights relevant to where you live.
Press the 'start your case now' button and you will be asked to fill in your details, explain what happened, how you were affected and what resolution you want, and to attach any 'supporting documents' like receipts or tickets.
You'll then be asked to create a free Resolver account so you can track your complaints. The letter is then drafted for you and, in many cases, once you've checked it over and made any changes you want, you just click for it to be sent.
OK, I like the sound of that, but how many template letters does it have? In total, Resolver has over 70,000 variants of template letter, which have been written by the Resolver team and checked by its lawyers.
What happens if my complaint's rejected? One advantage of Resolver is that if your complaint's initially rejected, it'll help you escalate it – within the company first, and then, if necessary, to an ombudsman or regulator.
Several ombudsmen, regulators and other complaints bodies accept submissions directly via Resolver, so you won't have to use their forms as you can fill in a Resolver template.
These include well-known organisations such as...
Centre for Effective Dispute Resolution
Consumer Dispute Resolution Limited
Gambling Commission
Financial Ombudsman Service
Furniture Ombudsman
Ombudsman Services
Transport Focus
Can I complain to the company in question over the phone? Yes, phoning the firm in question may be best if you think you've got a straightforward complaint, but remember you may be charged for the call. If you do decide to call, there's a template you can use in the online tool to note down the details of your call and add them to your case file.
Is Resolver effectively a claims management company? No, it's not – firstly, because it's free, and secondly, because while it will guide you, you're in charge of your complaint and responsible for checking it before it's made.
How many cases actually end up being successfully resolved? It's hard to put an exact figure on it, as many users don't log back in to officially close their case, even if they're successful and happy with the outcome.
However, to give an estimate, Resolver analysed 91,000 cases in detail and found 68% had reached a positive outcome, with the users' issues being resolved.
What happens if my complaint isn't resolved after being escalated to an ombudsman? Unfortunately, if it has been deemed your complaint isn't fair, you may have little choice other than to accept the situation. If you want to continue to pursue it, often the final recourse is to take it to court, which is a serious undertaking. See more information about this in our Small claims court guide.

While Resolver can't help you with this process (yet), having used Resolver can be a real advantage, as it'll give you a complete record of all the correspondence related to your case.
If it's all free, how does Resolver make money? Resolver's entirely free to use but makes money through it's Resolver for Business platform, where it uses its expertise to help organisations build automated complaints systems. The aim of this is to help them keep customers and reduce the cost of dealing with complaints.
Resolver uses its insight aggregated, anonymous data to help organisations improve their services, but it NEVER uses any personal details.
Resolver may also promote partners/services on its website as stated in its privacy policy.
So who exactly does Resolver let you complain to? Most of the major companies and bodies you can complain to are listed in the table below. However, Resolver also works with smaller, regional businesses, which are often represented by trade associations, some of which Resolver has added to its tool.

For example, TrustMark*, with 13,000 firms, and Buy With Confidence*, with 4,700 firms, represent smaller traders such as builders, cleaners, hairdressers, gardeners and plumbers.
| SECTOR | FIRMS COVERED | FIRMS / PUBLIC BODIES | % OF SECTOR (1) | TYPES OF COMPLAINTS COVERED |
| --- | --- | --- | --- | --- |
| Energy* | All big six firms plus smaller ones, such as Bulb and Ovo. | 138 | 99% | Billing, customer services, meters, service issues and switching. |
| Finance* | Most major banks and building societies, plus lenders such as Quick Quid and Sunny. | 690 | 95% | Depends on the product – includes fraud, payments and online access. |
| Insurance* | Major insurers such as Admiral, AXA, Churchill and Saga. | 404 | 96% | Depends on the product – includes amendments, claims, disputes and quotes. |
| Legal* | Lawyers or solicitors dealing with mortgages, tax issues, divorce, inheritance and wills. | 581 | 96% | Conduct, conveyancing, costs, fraud, money and service. |
| Leisure* | Cinemas, gyms and gambling companies, such as Vue, Virgin Active and Bet365. | 565 | 60% | Admission, facilities, lost property, membership, odds, payments, staff. |
| Motoring* | Car dealers, manufacturers, breakdown services and rental firms. | 282 | 97% of big brands | Finance, insurance, parts, repairs, sales, servicing and staff. |
| Property* | Housing associations, councils, letting agents and estate agents, such as Foxtons and Strutt & Parker. | 1,658 | 45% of estate agents, 95% of housing associations. | Access, council tax, commission, compensation marketing, payments, repairs, sales and valuation. |
| Public services* | Universities, colleges, councils and Government services, such as the DVLA. | 559 | 100% of local govt, 60% of central govt | Depends on service – includes council tax, halls of residence, housing, school and transport. |
| Restaurants* | Chains such as Harvester, Pizza Express and Starbucks. | 154 | 78% of chains | Food and drink, lost property, prices, reservations, service, and restaurant environment. |
| Shops* | Chains such as Argos, B&Q and Ikea. Online retailers like Amazon and Asos. Daily deal sites like Groupon and Wowcher. | 1,023 | 80% of high street chains, 70% of online retailers | Delivery, gift cards and vouchers, payment and pricing, product warranty and plastic waste. |
| Telecoms* | Major home phone, mobile, broadband and TV providers like EE, Sky and Virgin Media. | 77 | 97% | Billing and payment, customer service, installation, network coverage and service issues. |
| Travel* | Airlines, hotels, online booking services, rail companies and tour operators, plus official bodies such as TfL. | 436 | 90% | Baggage, booking, conduct of staff, delays and cancellations, facilities, fares and seating. |
| Water* | All water companies across the UK, such as Southern Water, Thames Water. | 40 | 100% | Billing and payment, customer services, meter issues and supply issues. |