Father's Day deals
Our round-up of cheap Father's Day gifts
Treating your dad needn't cost a lot this Father's Day (Sunday 16 June). We're sure he'd appreciate a simple gesture like breakfast in bed or a homemade cake. But if you're going to spend money, here are some cheap Father's Day gift ideas.
Giving a gift doesn't need to be costly. Our free Father's Day gift cheques let you create vouchers for your dad as a way of 'paying' back the thanks. Perhaps offer some father/daughter/son bonding time, make a meal, help with household chores, or simply a day pass for free hugs.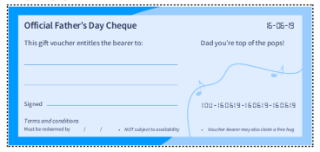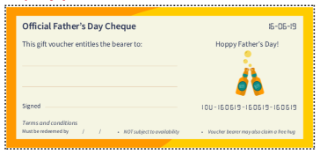 We don't currently have any deals.
We don't currently have any deals.
We don't currently have any deals.
We don't currently have any deals.
The annual Sweet Sundays promotion is back. You can get a 'free' cinema ticket to use on a Sunday until 25 Aug at participating cinemas. You'll need to buy promotional packs of certain chocolate and sweets, and enter codes online.

If you're trying to avoid sugar, see our cheap cinema ticket deals round-up for offers on other days.

The ticket can be used on any 2D screenings at Cineworld, Picturehouse, Empire, Showcase, Merlin, Scott, Reel, WTW, Savoy, The Grosvenor, IMAX Playhouse or Moviehouse cinemas. Unfortunately, Odeon and Vue are not participating. Check 'More info' for excluded locations.

Look for special packs of M&M's, Maltesers, Minstrels, Milky Way, Galaxy, Revels, Starburst, and Skittles (see 'More info' for the full list) marked with 'Free cinema tickets on Sundays'.

Depending on the pack size, you'll see two or five stars. Collect 10 and exchange them for your free cinema ticket. That means you'll need to buy a minimum of two large packs (189g-268g) or five smaller packs (91g-165g).

How do I get the free cinema ticket for £2?


1. Purchase the specially marked packs of chocolate or sweets, which are available at most major supermarkets.

The cheapest option we've unearthed are 196g packs of Skittles Fruits or Chewies, 196g packs of Starburst Mini, and 210g packs of Starburst Original. All are on offer for £1 at Morrisons until Tue 16 July – pick up two packs (you can mix and match) and you'll get five stars on each pack, enough for a free cinema ticket.

2. Look inside the pack to find a code, which is made up of letters and numbers.

3. Register online at Sweet Sundays and enter the codes by 11.59pm on Wed 7 Aug.


3. Check your inbox for an email containing a cinema ticket voucher code.

4. Redeem your cinema ticket by Sun 25 Aug – show your voucher code at the box office or book online via the cinema's website. No booking fee will be charged, so long as you're not purchasing any standard tickets at the same time.

The offer is running on the following promotional packs:

Maltesers - 93g standard pouch, 189g sharing pouch
Galaxy Minstrels - 118g standard pouch, 240g sharing pouch
Galaxy Counters - 112g standard pouch
M&M's Choco - 125g standard pouch, 250g sharing pouch

M&M's Peanut - 125g standard pouch, 268g sharing pouch
M&M's Crispy - 107g standard pouch, 246g sharing pouch
M&M's Mix - 125g standard pouch
Milky Way Magic Stars - 91g standard pouch
Revels - 101g standard pouch, 205g sharing pouch
Maltesers Buttons - 93g standard pouch, 189g sharing pouch
Skittles Fruits - 152g sharing pouch, 196g sharing pouch
Skittles Chewies - 152g sharing pouch, 196g sharing pouch

Skittles Sours - 152g sharing pouch, 196g sharing pouch
Starburst Mini - 152g sharing pouch, 196g sharing pouch
Starburst Original - 165g sharing pouch, 210g sharing pouch



Maximum of two free cinema tickets per person. Excludes advance screenings, premieres, 3D films, previews and premium seats. Can't be used with any other offer. Employees of the participating cinemas are not able to take advantage of the offer.

You can upgrade your ticket at Cineworld or Showcase cinemas for 3D, 4DX, Superscreen, IMAX, Dbox and Star Seating, but you'll need to pay an upgrade fee at the box office.

You can't use the 'free' cinema ticket at Cineworld Leicester Square, Cineworld The Screening Rooms Cheltenham, Cineworld IMAX Glasgow Science Centre and WTW The Regal Cinema Wadebridge.

Get Our Free Money Tips Email!

For all the latest deals, guides and loopholes - join the 12m who get it. Don't miss out

New and existing Vodafone customers can get two Odeon cinema tickets for £7 via a promo code on Vodafone's 'VeryMe' rewards programme. You can use the deal once per week.

Crucially, you can only use the code at a staffed box office, not when ordering tickets online, so as there's a chance a showing may be sold out by the time you get there, check ahead.

The code is valid on standard adult 2D tickets at any time on any day, though a number of cinemas, and premium screening or seats are excluded (see 'More info' below). It's available to any pay monthly or small business customer, plus pay-as-you-go customers who have topped up £10 or more in the last 60 days.

The offer's part of a wider range of promotions available via Vodafone's rewards programme – see VeryMe loyalty analysis.

How to get the Odeon offer

Download the free My Vodafone App – or update to the latest version.

Click the 'VeryMe' button to access a list of available offers and select the Odeon deal.
Go to the cinema and when there, click the 'get deal' button to access your code. It's only valid for one hour so don't do it too early.
The offer refreshes each week at 00.01 on Thursdays, so if you've had a code before, that's when you can pick up a new code to go again.


Before you buy the tickets, is it worth it?


One full-price adult ticket for a 2D film at Odeon can cost £3.50ish-£17ish depending on location, so you can save a lot with this deal, especially at weekends when discounts are rare.

If your local Odeon offers a ticket for less than £7, then it'll be cheaper to use Meerkat Movies 2for1 on a Tuesday or Wednesday – see our Deals Hunters blog Meerkat Movies trick: £1ish gets 2for1 movies for a year – but of course this Vodafone offer is valid every day of the week.

What other offers can I get on the rewards app?

When we checked on Tue 4 Dec, you could get a free Millie's cookie, free Costa drink, and a free 2GB seven-day data bundle, amongst other offers. We'll be looking into each and adding more info to our Vodafone deals page soon.

The code's not valid on the following:

- SCREENINGS: 3D, IMAX, iSense, premieres, special events, screenings or events not open to the public, Odeon Newbies, Odeon Kids, Odeon Silver Cinema, Odeon Event Cinema or Odeon Screen Unseen.
- SEATS: Gallery, Premier seats, D-box seats, love seats, club seats, super luxury seats or any premium priced seat.
- SPECIFIC CINEMAS: BFI IMAX, Odeon Lounge cinemas or Odeon luxe cinemas or screens (with the exception of Leicester Square where you can use the offer on 'classic' seats for a limited time).

Codes can't be used with an Odeon Limitless card.

If you register and print a voucher from Days Out Guide then buy a National Rail ticket, you can get 2for1 entry to over 300 UK attractions, including SeaLife Centres, Thorpe Park, Chessington World of Adventures, Alton Towers and Legoland Windsor when you present both at the attraction. See the full theme park list or the zoo and wildlife list.

You need to print a voucher for the relevant attraction (follow the link above and search for it) AND have a valid rail ticket bought from National Rail on the same day for a single or day return ticket, or within the days of travel for a return ticket.

What if I live near the attraction/am travelling by other means?

It's worth doing this even if you are not travelling by train as a cheap single ticket can be available for a couple of quid, far cheaper than the entry ticket price (Legoland Windsor is the most expensive at up to £60 on the gate).

Just stop by the nearest station on your way and pick one up, then present both to get your 2for1. Crucially, your rail ticket must show that you have travelled to one of the stations nearest the attraction. So for Thorpe Park, you need to have a ticket with an end destination of Staines or Chertsey.

The offer's ongoing, but check the voucher for each individual attraction's restrictions, as these vary. See the full T&Cs including which tickets are valid.

Excludes Oyster cards, Freedom Passes, and tickets and travelcards bought from London Underground. Can't be used with other offers or promotions.