Caravan Insurance
Get cheap cover for your tourer
Get Our Free Money Tips Email!
For all the latest deals, guides and loopholes - join the 12m who get it. Don't miss out
By Maeve O'Donnell | Edited by Sam D
Updated March 2018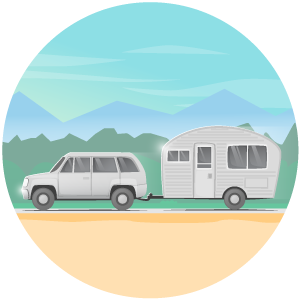 Britain's caravan club never stops moving – more than 550,000 are on UK roads. If you enjoy a pootle with your caravan in tow, insurance is well worth weighing up – and we've got a truck-load of cheap tourer tips.
Wherever you're heading, we'll help you hitch up to the right deal. Importantly, this guide is about caravans you tow with a car or other vehicle, not motorhomes, which are all-in-one vehicles with a living area behind the driver's compartment.
Caravan insurance explained:
The eight need-to-knows
Caravan insurance is not a legal requirement, but if you're unlucky it can be costly to go without it. Our tips help you decide what to do.
By law you don't have to buy caravan insurance, but without it you won't be protected from theft or damage
To tow a caravan with a car, car insurance is enough by law on the road. If you damage someone's property or injure them, it pays out (see our Car Insurance guide for the best deals).
But just having car insurance only gives you third party cover – which means there's no cover for your caravan if it's damaged or stolen. So you'd normally have to foot the bill yourself.
We're not urging you to buy caravan cover. For many it is useful, but if you're buying (or have been given) an old second-hand caravan you only plan to use once a year and don't mind a knock or two on it, you don't necessarily need to do anything else – it's up to you.
However, if you've spent thousands of pounds – or it's a pastime you spend most weekends on – specialist cover is worth considering, as it could be a hell of a lot of money to lose if the worst happens.
As we explain below, some home insurance policies can cover your caravan while at home, and other policies can cover its contents anywhere you go.
You don't need any insurance by law when your caravan is stationary
Insurance (car insurance as a minimum) is only a legal requirement while your vehicle's on the road. It's up to you whether you want to insure it while it's stationary. If you don't, you won't be covered if it's stolen or damaged.
Quick questions
Do I need to tell my insurer I'm going to tow a caravan?
In almost all cases, yes. If you're new to caravanning and just stick with your car insurance, putting a tow bar onto your car counts as a modification – so it's vital to let your insurer know you've got one. Most car insurance policies don't cover attaching a trailer as standard so double-check – some may charge you a slightly higher premium.
I've got a motorhome. Do I need specialist insurance?
Yes. You need specialist insurance before you hit the road in a motorhome – you'll also usually need the appropriate driving licence. Also, like a car there are three main types of policy – third party only; third party, fire and theft; and comprehensive.
A specialist caravan policy covers you for theft and damage
If you take out a standalone specialist policy, it will cover you if your caravan's stolen or suffers damage and needs repairs, or is written off in an accident. You'll be covered for:
Theft outside your home / in a public place / at a campsite anywhere in the UK
External damage (whether stationary or moving) outside your home / in a public place / at a campsite
Accidental damage inside the caravan (eg, you start a fire during cooking which damages the inside)
Public liability cover will also come as standard with most specialist policies. This means you'll be covered if your caravan causes damage to someone else's property or injures someone. For example, if your caravan tips over in bad weather and crushes someone's garden fence, or a caravan kitchen fire spreads to other caravans in a park, your insurer should pay out.
Contents within a caravan – how you're covered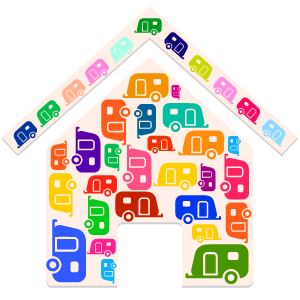 Cover for theft or damage of personal items kept locked inside the caravan or equipment such as gas canisters and power generators often is NOT covered on a bog-standard caravan policy. For this you'll often need to pay extra.
Before paying extra, check if your home insurance already covers that. However, the excess (the amount of any claim you must pay) on a home insurance policy is usually higher than a caravan excess, while claiming can push up future home insurance costs too.
What's more, home insurance may not cover all items in the caravan such as frying pans or crockery as people do not usually take these outside their home.
Quick questions
Will I get a new caravan if mine is written off?
How your insurer will settle your claim depends on what you agree at the point of taking out your policy – and will affect your premium. You'll be asked when filling in an application to pick from three replacement values: 'new for old', 'market value' or 'guaranteed or agreed value'.
New for old
New for old will generally only be offered for a certain number of years, for example up until your caravan is five years old. If your caravan needed replacing your insurer would sort out an equivalent, brand new caravan.
Depending on the insurer, you could find they only offer the equivalent replacement for 12 months – not much use if you've spent £20,000 and want to be sure of having a brand new model for at least five years in the event of an incident. So make sure you check.
However, be aware that most policies will only actually give you a new caravan if it's cheaper than the cost of repairing.
Market value
This tends to be the most common option and will pay out what your caravan is worth at the time of any accident.
Guaranteed or agreed value
A few insurers will also offer an agreed value policy which just means that you'll get what you paid for the caravan (provided you've got a receipt to prove it). This is most likely to apply if you have a customised caravan.
I plan to take my caravan outside of the UK. Will I still be covered?
Yes. Most specialist caravan policies will cover you outside the UK, but watch out if you plan to head overseas regularly each year. Some only offer as little as 30 days' cover abroad while others will go to 180 – more than enough for even the most committed caravanners. Make sure you grab the cheapest travel insurance before you go.
Can I lend my caravan to friends and family?
Lots of policies include cover so you can rest easy that if your friends and family borrow your caravan, you'll still be able to make a claim if anything goes wrong. But always double-check, especially if it's something you plan to do regularly – search for family and friends in the T&Cs.
Am I covered if the caravan hits a pothole or suffers a puncture and can't move?
Most specialist caravan policies don't include breakdown cover. You'll have to rely instead on a breakdown policy for your car, which will usually extend to any caravan you're towing. Not all do, though, so double-check to be certain. As a rule, if your caravan hits a pothole and damages its chassis (so can't move), your car breakdown policy will cover you for being towed home or to a garage.
We've bought a caravan made 30 years ago but it's in excellent condition. Can we get cover?
No. Most insurers won't insure a caravan built more than 25 years ago.
Am I covered if I use my caravan for work?
If you were planning on using your caravan to flip burgers for festivalgoers then the sort of insurance we're talking about won't be for you. Most policies have an exclusion for "business use".
Trick to turn annual cover into summer-only cover
You can only buy caravan insurance annually, so what if you just need it for a few months? Here's a canny trick (that comes with risks)...
Buy an annual policy to cover you for when you need to use it, then cancel when necessary and pocket the refund. You'll get a pro-rata refund (minus a small exit fee, £25 say) which you could haggle anyway.
What's the risk?
You may save money but it's a gamble on these counts.
If you've a cheap policy the cancellation fee may wipe out much of the saving.
You'll be exposed if anything happens to your caravan when you don't have insurance, so make sure it's securely stored. Most home insurance won't cover you if it's stolen from your home, though it is possible to buy specialist cover as a home insurance add-on, often at a high price.
Your home contents could cover your possessions inside the caravan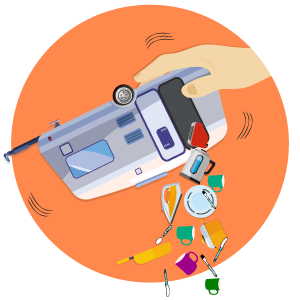 Home contents insurance can also give you a degree of protection but only if you have the right type. A home contents insurance add-on – called 'all risks' or 'personal possessions' – covers valuable goods and clothing you take away with you outside the home, such as in a caravan. Check if you already have this in place.
This add-on gives cover for all valuables up to a certain limit – often about £1,500 – though you can choose to buy more protection. Cover is for the likes of clothes, computers and jewellery (though if you carry a lot of valuable gadgets e.g. a laptop, tablet and smartwatch, then gadget insurance could be worth considering). However, kitchen equipment and bedding may not be covered as they're not items people tend to take out of their home.
When we say contents of your caravan, imagine turning your tourer upside down and shaking it vigorously (yes, you'd need to be Superman, but you get the gist). You'll be covered for everything you take with you that falls out.
But most home contents insurance policies do NOT cover the caravan itself unless you buy an often pricey add-on for your caravan. It's rarely worth buying this over specialist caravan insurance because it is so expensive. What's more, to be able to buy the add-on you often need a high-end policy to start with, such as from the likes of Hiscox.
How to buy cover for items outside your home
If you're not already covered then call your insurer to find out the cost of extending your policy. But don't assume you have to pay that price.
Also, find the cost of a new policy in case your insurer becomes expensive after the change, or if it was expensive to start with. See our full home insurance cost-cutting system to get a better deal (factor in a £50ish cancellation fee to change mid-policy).
Claiming on home insurance can push up future costs
As well as having to pay an excess, it could mean higher prices for up to five years following a claim. This is because home insurers will ask you if you've made a claim during the past few years, and if you have they'll consider you a higher risk, which could push up prices. You'd also lose any no-claims discount too.
This affects your entire home insurance policy, yet if you claim under a caravan insurance policy there's no impact on your home insurance.
If your caravan's too heavy, it won't be covered
Government rules mean you can tow heavy tourers and trailers with a car but just how much you can pull depends on when you passed your driving test.
If you passed your test after 1 January 1997, as a rule of thumb the total weight of your vehicle and trailer shouldn't be more than 3,500kg (though licence holders who passed before this are usually allowed a greater combined total weight.)
For your insurance to be valid, you must meet this criteria, though it shouldn't be a problem for most. Many family cars tend to weigh about 1,500kg (though that's an average and some will be more or less); and many caravans weigh a similar amount. You can usually find details of what your vehicles weigh in your car handbook, and in your caravan documents.
To double-check if your car and licence is up to scratch, Gov.uk has a handy tool for checking if you're road ready.
Important! If you passed your driving test after 1997 you'll also need to take an extra test to tow a caravan. Find out more.
Keep your caravan locked up in storage to cut costs
How and where you store your caravan can make a difference to your specialist insurance premiums and could even give an insurer a reason not to cover you.
As a minimum insurers will expect a wheel lock and a hitch lock (which prevents your caravan being towed away). These will set you back anything from £20 to over £100 each; prices will vary, so compare deals between shops or see if you can pick up a cheaper second-hand one on eBay.
Not having these locks could mean your insurer won't pay out if your caravan is stolen – so it's worth the investment. When it comes to storing your caravan, you've two options: at home where you can keep an eye on it, or in a dedicated caravan lock-up. Here are some more security tips:
Lock it up in storage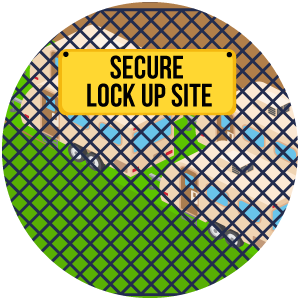 You'll pay a fee for a lock-up, around £500 for the year depending on where the site is and the size of the caravan. If you haven't got the space at home or would just prefer to use a caravan lock-up, you can find a list of recommended storage sites here.

Make sure you check the terms of your policy as some will only cover "approved sites", which can mean approved by the Caravan Storage Site Owners' Association (CaSSOA) or that it meets a certain standard of security given by the CaSSOA; for example, that it's gold registered. You can find your nearest approved site here.
Keep it outside your home
If you're happy that you can keep it safely at home then it probably makes sense to save the money there. You can't just park it on a road outside your home; it'll need to be kept on a drive or on land (usually a small garden if not) by your property.
Is it cheaper to keep it outside your home?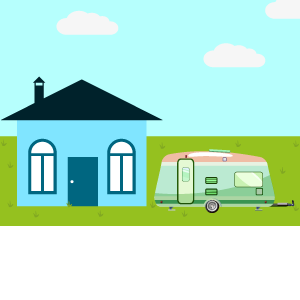 There may be no higher cost to consider if you store it at home. From our research, some insurers didn't ask where the caravan is kept overnight so keeping it on your driveway shouldn't have any impact on your premiums.
However, given that some insurers rate premiums for your personal circumstances based on how risky they think you are, it'll be worth comparing different specialist prices.
Should I leave my caravan in storage and forget about insurance?
No, in fact you won't be able to leave your caravan in most storage sites without paying for your own separate specialist insurance policy.
The cost of keeping your caravan in a designated lock-up doesn't come cheap – it tends to be about £400-£500 a year so most people will be better off storing their caravan themselves if possible.
Is there anything else I can do to keep premiums down?
Some insurers will say you have to have particular devices in place to keep your caravan from being towed off by thieves.
For example, when the caravan is parked up, they may ask that you use a hitch lock to stop the caravan being hitched to another vehicle, a ground anchor to fix the caravan to and a security post to prevent the caravan from being moved.
Alarms can also help prevent thefts and tracking devices can help recover your caravan if the worst does happen. Some insurers offer a discount if you have these measures in place so you might be able to save in the long run.
Get your towing mirrors in place
To comply with the law anyone towing a caravan must be able to see 20 metres behind them and four metres either side. Most vehicles will need additional mirrors fitted to meet this – towing mirrors cost around £15 or £20 a set. Safety on the road comes first – they'll help you to be more aware of other drivers.
Register your caravan in case it's stolen
The Central Registration and Identification Scheme – or CRiS – allows you to register your caravan so that if it's stolen there's a better chance that the police will be able to reunite you with your caravan.
Most insurers say you have to be registered to get cover and while some newer caravans will be registered when you buy them, if you're buying second-hand you'll need to make sure it's registered in your name. So just be sure to double-check when you buy.

Use comparison sites to find the cheapest policy for your caravan
Once you've brushed up on the basics from our top eight tips, if you've decided caravan insurance is right for you, it's time to visit comparison sites to get quotes. These sites zip your details to a number of insurer and broker websites to find the cheapest quotes. They don't all compare the same companies, so it's best to combine them.
What does insurance cost? Prices are typically £100-£600 a year, but can vary
To give you an indication of what kind of prices you should expect to pay for an annual caravan insurance policy, we tested four brokers for quick quotes which apply nationwide – none asked for a postcode or model of caravan.
For a £5,000 caravan, inclusive of £1,000 contents cover, between £110 and £160

For a £10,000 caravan, inclusive of £1,000 contents cover, between £200 and £270

For a £20,000 caravan, inclusive of £1,000 contents cover, between £420 and £600
All offered as standard letting up to three family members use the caravan; at least £1.25 million in public liability cover; 30 days of cover for holidays to Europe; and all have an excess of around £100. Remember, these figures are just indicative: the prices you get from a comparison site will be tailored to details of your caravan, its storage and security.
Step 1: The top comparison sites
Only two big ones compare caravan insurance premiums. For speed, it'll help to have your tourer's make and model, age, security/locks, details of where you keep it overnight and its size. You can find most of this from your owner's manual or, if you've lost it, try Caravan Talk, which has a handy list of details of different caravan models.
Getting a quote takes five minutes
Results are readily available for 'market value' or 'new for old' cover
Voluntary excess automatically defaults to £150
Box to opt out of marketing calls is not easy to find

Getting a quote takes five minutes

Box to opt out of marketing calls is easy to find

Getting new quotations is slow when revising cover
Slow to quickly compare

'market value' against 'new for old' cover
Step 2: Also check the ones comparisons miss
Comparison sites let you compare insurers quickly but don't capture the entire market. Some insurers do not appear on comparison sites at all and some deals are only available by going directly to an insurer's website.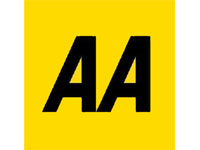 Get a quote from The AA* and you can compare up to four levels of cover. The quote process is also one of the quickest.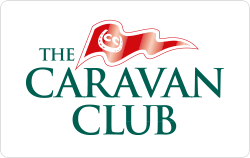 For members of The Caravan Club* you have the option to select one of two levels of cover and can insure caravans up to 15 years old.

Crusader Insurance can provide quotations for caravans (on a 'new for old' basis) up to 10 years old with Ageas or AM Trust.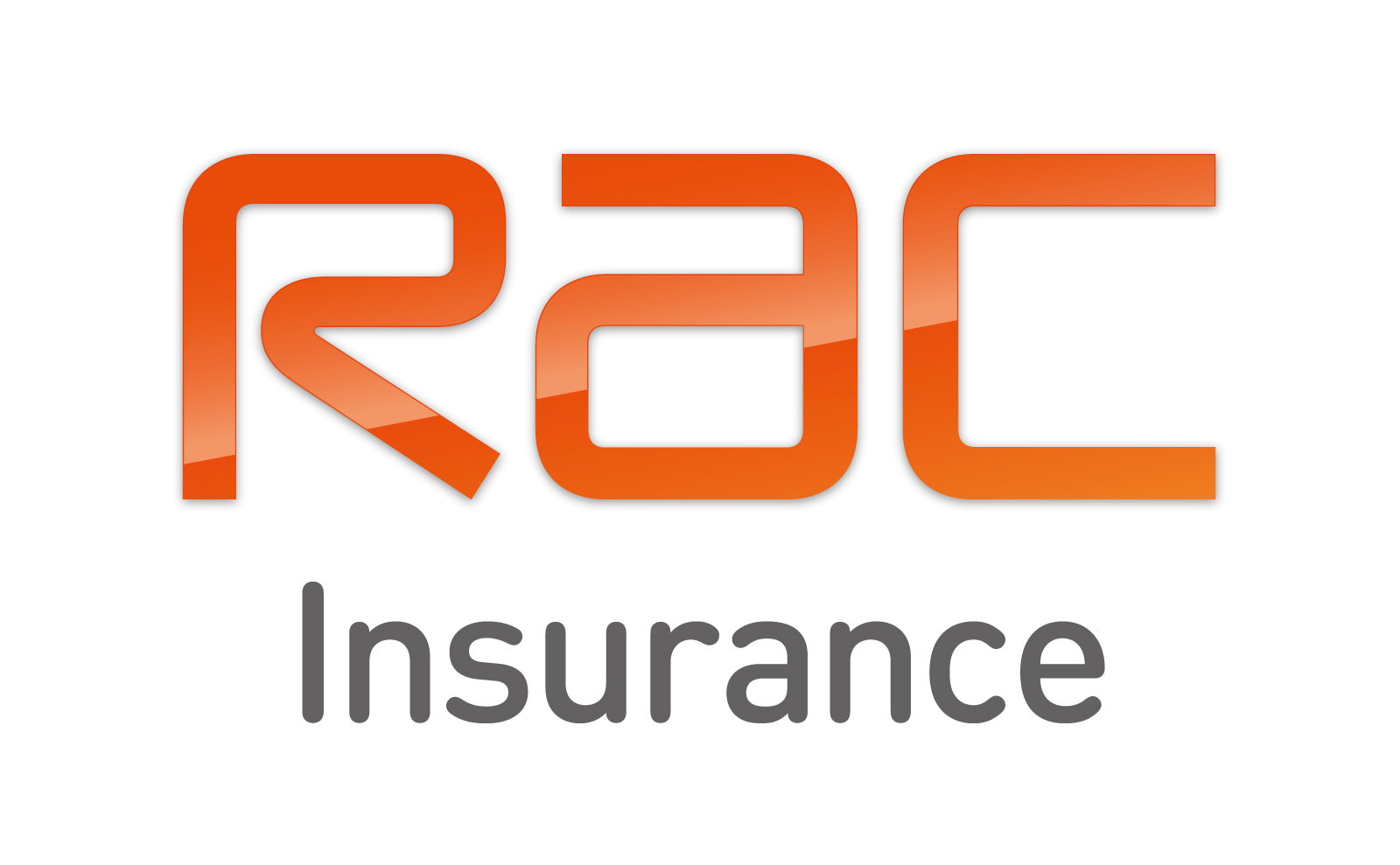 Breakdown specialist RAC* also provides caravan cover and is worth considering for value.

If you currently have a home or car insurance policy with LV*, you'll also get a 10% discount if you insure your caravan with the company.

Tourer Select offers a quick quote process and automatically provides up to 240 days' cover a year.
How to make a claim on your caravan insurance
Claiming on your caravan insurance shouldn't be daunting and if you understand the terms and excesses on your policy you shouldn't be in for any nasty shocks. Follow these three simple steps in the event you need to claim.
If it's a theft, notify the police

If your caravan is stolen, you'll need to get a crime reference number to make a successful claim on a home or specialist insurance policy. Report the incident to the police as soon as you can to make sure your claim doesn't hit the skids.

Submit your claim as soon as possible

Contact your insurer as soon as you can to avoid any administrative hold-ups; if it's a complex claim, it may take a while to be processed, so the sooner you start, the better.

Keep your receipts

The loss of a caravan isn't normally queried by an insurer, especially as you'll have given it all the details when buying. But it'll always come in handy in any claim to be able to show proof of purchase if requested.
How to complain about your insurance provider
The insurance industry doesn't have the best customer-service reputation and while a provider may be good for some, it can be hell for others. Common problems include claims not being paid out on time or at all, unfair charges, or exclusions being hidden in small print. It's always worth trying to call your provider first, but, if not, then:
Free tool if you're having a problem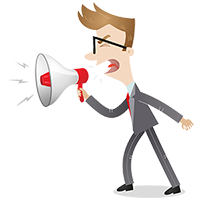 This tool helps you draft your complaint and manage it too. It's totally free, and offered by a firm called Resolver which we like so much we work with to help people get complaints justice.
If the complaint isn't resolved, Resolver will escalate it to the free Financial Ombudsman Service.
Important: If your issue is about a voucher or incentive that was part of an MSE Blagged deal, instead just let us know by emailing voucherhelp@moneysavingexpert.com as that's usually quicker.