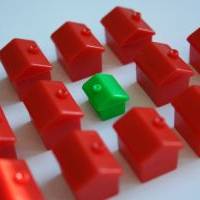 There are some glimmers of hope for those with smaller deposits looking for a mortgage.
The Bank of England said today it expects some lenders to increase the credit available to borrowers over the next three months.
At present, the best deals are only available to those who borrow up to 60% of the value of their home. It's likely many of those who need a mortgage above 75% loan-to-value (LTV) will have their application refused.
Lenders are already taking some first tentative steps towards making mortgages easier to obtain, brokers claim. The Royal Bank of Scotland has this week introduced a new five-year fixed-rate mortgage for those buying a home, if you're borrowing up to 90% LTV, though only available via some mortgage brokers. However, the 6.69% rate (with a £299 fee) is high compared to other five-year fixes. On a £150,000 repayment mortgage, you'll pay £1,031 a month.
Leeds Building Society offers a five-year fix at 5.25% with a £199 fee for those borrowing up to 85% LTV. On a £150,000 repayment mortgage, you'll pay £899 a month.
In addition, HSBC is increasing the maximum LTV from 60% to 75% on its mortgage which tracks above Bank of England base rate by 2.45% until paid off (currently 2.95%, plus a £799 fee). The bank estimates 20% of mortgage holders have between 25% and 40% equity in their homes.
Richard Morea, from fee-free broker London & Country, says: "These are encouraging signs but it is still tough to get a mortgage. The overriding concern is that many borrowers don't have enough equity.
"As house prices are well down on last year it means those who may have qualified for 75% LTV deals 12 months ago may not now. But at least some lenders are heading in the right direction."
The news comes as Nationwide Building Society today revealed house prices surprisingly rose for the first time in 16 months. They were up 0.9% from February to March, but still down 15.7% compared to this time last year. Nationwide warns that sustained house price growth is still a few months off.
Dan Plant, money analyst at MoneySavingExpert.com, says: "For many borrowers who've lost a large chunk of equity in their homes over the last year, the slight upturn in house prices announced today would have to be significantly sustained to return them to the LTVs they had before the credit crunch hit."