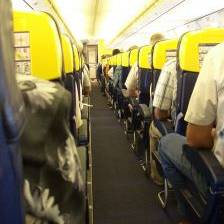 Budget airline Ryanair has added yet another charge to ticket prices – you'll now have to pay to check-in on most flights.
You'll face a £10 fee per return journey (£5 each way) to check-in online. If you forget, or don't print your boarding pass, you'll have to pay £40 each way at the airport.
A family of four who fail to complete the process in advance face a mammoth £320 bill on top of their ticket price per return journey.

Passengers could previously check-in for free online if they only took hand luggage. If you booked before 20 May, but you've yet to fly, you don't need to pay the online check-in fee, though if you forget, you'll pay £10 per leg at the airport. In addition, anyone buying sale flights won't pay the online check-in fee.
Ryanair spokesman Stephen McNamara says: "The move is aimed at lowering our airport and handling costs and passing these savings to all passengers in the form of even lower air fares next winter."
The airline already charges £10 per leg to put your first bag in the hold, and £20 for each additional item. If passengers don't book the luggage in online, it's a flat £20 per bag, per leg.
It also charges for most card payments, food and drink on board, and priority boarding.