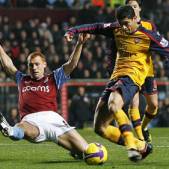 Setanta Sports has confirmed it is desperately seeking to restructure its finances to prevent it collapsing.
The Irish broadcaster, which broke into the mainstream UK market in 2007 when it began screening live Premiership football, is reported to have failed to pay money owed to the English and Scottish football authorities.
A spokeswoman today told MSE the company was discussing a possible refinancing package but said no further comment could be made. A full statement is expected during the next 48 hours.
Protect your payments
Subscribers who have payments automatically taken by credit or debit card should immediately call the broadcaster and switch to direct debit payments if they still want the service.
This is to ensure they are not left out of pocket if the firm collapses.
No cancellation rights
If payments are taken by card, known as recurring payments, you cannot easily cancel the payment with the card company, meaning you're relying on the firm, such as Setanta, to stop taking payments.
Martin Lewis, MoneySavingExpert.com creator, says: "Recurring payments are a hideous nightmare. The outrageous fact you cannot cancel them should be banned. They're never more dodgy than when a company is on the brink.
"Customers' inability to cancel means you're totally reliant on the company and its customer service. In crisis times, if administrators take over, your chances of getting through drop, meaning you could risk having the cash dripping out of your account for months."
Direct Debit is best
Yet pay by direct debit from your bank account, and you can simply cancel the instruction when necessary, so no money's taken.
The same principle applies to any regular payment you have with a firm in trouble as it's generally safer to pay by direct debit anyway.
Further Reading / Key Links
Full info on recurrent payments & cancelling them: Payments Guide
Setanta latest: Setanta Sports