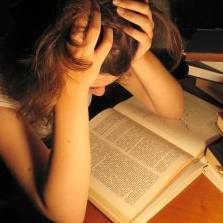 Three hundred thousand university hopefuls getting their A-Level results today face the prospect of graduating with over £23,000 debt, a new report reveals. Yet this misses the real crux for students: the difference between good and bad debt.
Research by university guidiance website Push.co.uk estimates undergraduates who have just completed their first year at university are likely to owe £21,100 at the end of their studies, compared to students completing their third year, where the figure lies at £13,874.
This autumn's intake is expected to graduate £23,500 in the red.
But the findings do not make a distinction between student loan debt and commercial debt. The interest rate for student loans in the new academic year will be 0%. In other words, students will pay no interest.
The rate's set every September, usually based on the previous March's Retail Price Index (PRI) measure of inflation or the Bank of England base rate plus 1 percentage point, whichever is lower. This means the cost of the loan over its lifetime is neglible, as it loosely tracks the cost of living.
As inflation is negative this year, the Government has decided to charge no interest.
In stark contrast, commercial debt, such as loans and credit cards, have interest rates often around 20% APR.
Student loans are good debt
Martin Lewis, MoneySavingExpert.com creator, says: "We see a plague of surveys telling us of the nightmare figures about student debt; actually to really analyse the picture you need look at the type of debt this is. Unfortunately, irresponsible surveys can put many off going to university.

"Most of the debt tends to be from the Student Loans Company, and that's a very different beast to any other type of debt. Firstly, you only have to repay it when you earn over £15,000; if you don't earn that, you don't repay.

"Then there's the fact you simply pay 9% of everything you earn above that – far more akin to a graduate tax than debt.

"The real scare is about commercial interest rate credit cards and loans that students have been forced to take out – and that's the major concern. My worry is by focusing on the big number, we lump all debts together and that means new students don't delineate.

"What every A-Level student really needs is not a lecture on not borrowing, but to understand the difference between good and bad debt and how to manage and minimise it."
How you repay your student loan
Graduates or anyone who leaves their university course, only repay loans once they start earning £15,000 a year.
Repayments, deducted directly via employers' payroll, are 9% of all earnings above the £15,000 'allowance'. So a £25,000 salary would equate to monthly repayments of £75.
You can make additional repayments voluntarily but can't get that cash back if you decide you shouldn't have overpaid.
Outstanding student loan debt balances are wiped clean 25 years from the first April of graduation.
Managing student debt
Here are our top tips to save money while at university:
Apply for all the student loan and grants available. Student loans are the cheapest form of long term debt – this year they are interest-free – so don't be afraid of them.

Depending on your family's household income and where you live in the UK, you may qualify for a grant up to £3,406, which you don't have to repay. See the Student Loans and Student MoneySaving guide for more information.


Get a student bank account with the largest interest-free overdraft. Halifax and Bank of Scotland say they offer student accounts with a maximum interest-free overdraft of £3,000 in year one, although how much you get depends on your credit score. Though don't blow it all at once as it needs to last your entire university life.

And just because you're not paying interest, never spend unnecessarily as it must be paid back eventually. See the Student Accounts guide for full details. Also avoid expensive commercial debt such as credit cards, where possible.


Get uni grants. Some universities offer cash to those in hardship, which doesn't have to be repaid. So ask your uni's welfare office.


Learn to budget. It's important to save and spend responsibly, while also having a good time. See the Budget Planner tool for information to help manage your money.


Grab freebies and use vouchers. Students are showered with special deals, especially at Freshers' Fairs. Milk these to the max!