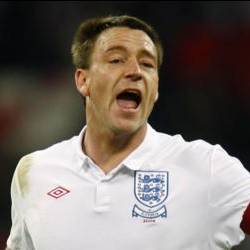 Football fans who want to watch live coverage of England's match against Ukraine on Saturday in their own homes will have to pay at least £4.99, and they'll have to view online.
To get that price you must order the match by the end of Wednesday. If you sign-up on Thursday or Friday you'll pay £9.99, or a whopping £11.99 on match-day (see the Cheap Broadband and Cheap Digital TV guides).
The World Cup qualifier, to be played in Ukraine (kick-off 5.15pm), is not available on any television channel. This is because no provider agreed to buy out the contract to screen the match, originally held by the now-collapsed UK arm of broadcaster Setanta.
The screening is a joint venture between online streaming firm Perform, and Kentaro, which negotiates contracts between football associations (in this case the Ukrainian FA) and television firms.
England (likely to be captained by John Terry, pictured, right) have already qualified for next year's World Cup Finals in South Africa so the game does not hold the same significance as previous qualifiers.
How to order the match
A number of national newspapers and internet providers allow you to sign-up via their sites, but whichever route you choose, you'll be directed to the dedicated Ukraine v England website to place your order.
Once there, click to sign up and it will ask for your details. You can pay by credit or debit card.
Once on the official site, you won't pay the fee if you sign-up to a linked gambling firm, but the minimum outlay is a more costly £10.
What if something goes wrong?
Before signing-up you'll need to tick a box confirming you have tested whether your computer has the required software.
It's important you test this out. If your PC or Mac is not up to scratch you'll be offered tips on how to rectify any problems.
If you cannot view the game, having paid and successfully tested your computer, refunds will be considered on a "case-by-case basis", but with no guarantees.
Can you watch it anywhere else?
It will be shown at selected Odeon cinemas, though standard adult tickets currently cost £12 at the Leicester Square Odeon (London) or £8 in Manchester.
Pubs and bars may also screen the match but check first as many will not be able to show it.
Further reading/Key Links
Cut-price internet: Cheap Broadband
Cut TV costs: Cheap Digital TV
Order the match: Ukraine v England