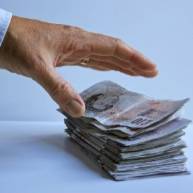 Hundreds of thousands of consumers who we sold debt insurance by broker Swinton are to receive refunds.
The provider has also been fined £770,000 by the City watchdog for "serious failings in its sales of single premium payment protection insurance (PPI)" in a rip-off that made the firm millions of pounds.
On the orders of the Financial Services Authority, Swinton has agreed to contact over 350,000 customers who paid for PPI and offer a full refund (see the PPI misselling guide).
Some had more than one policy, with the FSA estimating the provider will have to pay out on 480,000 policies.
Swinton will also pro-actively review previously rejected claims and pay compensation where appropriate.
Swinton is the fifteenth firm to receive a fine for PPI misselling in what has become a national scandal, with millions sold unsuitable policies.
The biggest fine, of a whopping £7 million, was slapped on Alliance & Leicester in October last year.
PPI is designed to protect loand and credit card payments if you cannot work.
Single premium PPI, which is no longer sold, is where the cover for the term of the loan is added up front, rather than being charged monthly, meaning you're charged interest on the insurance.
The PPI Swinton missold was designed to cover monthly direct debit payments for home or motor insurance, as when you pay in installments, you're effectively given a loan.
Those due refunds will receive either £15 or £20, depending on their policy.
Swinton will write to affected customers during the next six to eight weeks but it is up to you to respond to get your cash back.
Wendy Alcock, MoneySavingExpert.com money analyst, says: "It's been nearly a year since the FSA fined a PPI provider for mis-selling, so it's good to see it is still on the case. It's also a positive move asking Swinton to review previously rejected claims.
"Everyone with a loan, credit or store card, and now monthly paid car and home insurance too, needs to urgently check if they were missold the cover and reclaim."
Misselling abuses
Between December 2006 and March 2008, the FSA found Swinton used an "assumptive" selling technique in which PPI was automatically included in insurance quotes without first establishing whether the customer wanted or needed it.
In addition, Swinton did not make it clear PPI was optional and did not properly disclose the cost, the FSA adds.
Typically, the broker would take over 90% of the price paid by the consumer as commission but this was not disclosed to the public before the sale.
The FSA says the firm made approximately £7.8 million from PPI sales during this period but it stopped selling the cover in March 2008 on regulatory orders.
The FSA offered a damning summary of Swinton's offences.
Margaret Cole, from the regulator, says: "These were deliberate breaches. Swinton was fully aware it should establish a customer's need for PPI before recommending it, yet nearly half a million policies were sold to customers who didn't necessarily require them.
"This penalty, the action, and Swinton's departure from the PPI market serve as a shot across the industry's bow to remind it to play fair, or not play at all."
A Swinton spokesman says: "Swinton takes the matter very seriously and will be contacting all customers concerned. The company apologises to any customer affected, and has set up a dedicated unit to deal with the PPI cases.
"The total cost of the product was disclosed to customers and was in line with prices charged by other providers in the market for similar products."
Further reading/Key links
Get your money back: PPI reclaiming
Cheap cover: Loan insurance