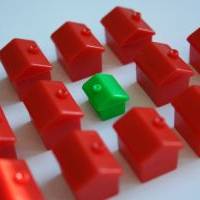 Borrowers have been urged by some sections of the mortgage market and media to fix their home loan rates over recent weeks, but is that good advice?
The Bank of England base rate has now been held at its historic low of 0.5% for the past year but it will have to rise at some point which will push many mortgage rates up (see the Fixed vs Variable Mortgages guide). The question is: when?
Meanwhile, many borrowers sitting on their lender's standard variable rate (SVR), which can be as low as 2.5%, will be hoping rates remain low (see the Cheap Mortgage Finding guide).
We asked five mortgage experts what their outlook is for the mortgage market to help you decide whether to go for the surety of a fix or gamble on variable mortgage rates.
Ed Stansfield, housing market research manager at economist firm Capital Economics, says:
"Interest rates are probably going nowhere over the next 12 months. Over the last year to 18 months the gap between what borrowers are charged and the base rate has been getting wider, though this has reduced slightly over the past three to four weeks.
"There may be downward movement in two to five year fixed rate mortgages due to competition between lenders but I doubt they will fall dramatically. Though equally, pressure may be kept on lenders to keep restrictions tight.
"No-one really knows where interest rates are going and it's a best guess. So if you are looking for certainty you should go for a fix and let that be the over-riding concern rather than waiting for rates to fall by a quarter of a percent or so."
Rob Gill, director at mortgage broker Coreco, says:
"What to do depends on your circumstances. The most important factor is to ask yourself whether you can afford your mortgage if the rate rises by two, three or four percentage points. If no, then you should really fix your rate.
"We expect base rate to be 2% by the end of the year and the economy to recover quicker than expected. Base rate will probably rise to a more natural level of 5% or 6% within three years.
"You could wait a little longer if on a low SVR, but even if on a comfortable rate, be ready to move. Keep an eye on fixed rates as they fluctuate based on market sentiment so will often rise before the base rate rises. When they do, be ready to act."
Ray Boulger, senior technical manager at mortgage broker John Charcol, says:
"While some borrowers will always prefer the certainty of fixed monthly payments, for those making the choice on cost, trackers look better value. Lifetime trackers generally offer better value than short term trackers as the rates are similar and the early repayment charge generally lower (sometimes nil).
"The difference between the best lifetime tracker rates, which start at 2.39%, and the best two-year fixes without a big fee is about one percentage point and so for the fixed rate to work out cheaper, base rate would have to average at least 1.5% over the next 2 years. The UK economy is in such a mess, it is likely base rate will either remain at 0.5% until the end of this year or only rise slowly.
"Longer ahead, there is uncertainty so for those who prefer a fixed rate there is a better argument for taking a longer term fix, say five years. However, the cheapest five-year fixes are nearly 2.5% dearer than the best trackers and so there is a big premium to pay for certainty.
"The best strategy is to take a tracker now with low, or no, early repayment charges but to watch the market closely so as not to miss the opportunity to switch to a fix."
Richard Morea, technical manager at mortgage broker London & Country, says:
"It's always time to fix, if you need the peace of mind and stability that a fixed rate brings, and if that's you, now could be an ideal moment to lock in. With the bank rate at an all time low of 0.5%, lenders look keen to lend, and the stiffer competition is forcing rates down.
"Lenders are also looking with renewed confidence at borrowers with limited equity so first time buyers and those who have suffered through falling house prices will find better fixed rate deals being made available to them (see the Mortgage boost MSE News story).
"Most economists aren't forecasting much change in base rate in the short term, so there's also a good argument for trackers. Borrowers able to take the risk of fluctuating payments may like the lower initial rates offered by trackers.
"For many who decide not to fix, it will be important to make provision for the day when rates climb, so a deal with no early repayment penalties, a cap or a penalty-free switch to fixed, will be attractive."
Melanie Bien, director at mortgage broker Savills Private Finance, says:
"At present, fixed rates are only suitable for those on extremely tight budgets who are nervous about interest rate rises because they are priced that much higher than base rate trackers.
"We are in a low interest rate cycle and while rates could well start to rise in the next couple of years, we don't expect them to move much higher than around 2%. With the cheapest fixed rates starting at around 3.19%, base rate has to move up quite a lot to make it worth your while having a fix.
"The other thing to bear in mind is the length of time you fix for. If you opt for a two-year deal, rates are likely to be rising as you come to the end of it and you are faced with remortgaging as rates are edging higher. A five-year fix makes better sense, taking you past a period when rates are likely to be rising."
How to get a mortgage
Unless you're financially savvy it's usually best to seek advice from a whole of market mortgage broker given the complexities of mortgage products.
Martin Lewis, MoneySavingExpert.com creator, adds: "It's even possible to search now and reserve the best fixed rate you find for a small fee, which can be reserved for up to six months, as an insurance policy against rates rising.
"If they shoot back up, this means you're sorted, and if they fall, ditch it for a better rate and you only lose the relatively small booking fee."
Further reading/Key Links
Mortgage cost-cutting guides: The Remortgage Guide, Mortgage Haggling, Cheap Mortgage Finding, Ditch My Fix?