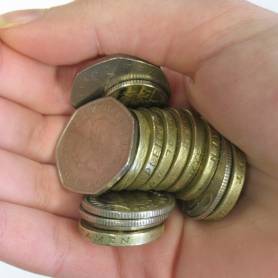 Coins and notes will be used in less than half of transactions within five years, according to research out today.
The Payments Council says cash payments have slumped from 73% to 59% over the past decade with debit card spending now the most popular - quadrupling to £264 billion-worth last year.
Debit card payments, used over 6 billion times in 2009, are even dwarfing credit card usage, while the cheque continued its decline and at a faster pace than expected (see the Best Bank Accounts guide).
Cheques are proposed to be phased out completely by October 2018, although the council says even if no action is taken, the volumes will more than halve to just 248 million in that time, making up just 0.8% of all personal payments made.
"By 2050, when today's new workers have retired, cheques look set to be a historical curiosity," it adds.
It's not just cash and cheques where the make-up of banking and financial transactions is changing.
Research from MoneySavingExpert.com, published yesterday, revealed over half of the 13,500 people we surveyed had not been into a bank branch in the past month.
Contactless future
The council says even the use of today's popular debit and credit cards will dwindle in their current form.
It believes contactless cards, which allow people to pay for small items by tapping a device or plastic against a reader without inputting a PIN number, are the future.
There are eight million cards in the UK that allow contactless payment, but the council estimates this will grow to 30 million by 2012.
And mobile phones are likely to be used eventually for payments, with an iPhone application already making this possible.
"By 2050, contactless could well be the norm, but it is unlikely to be on a plastic card and could very well be on a mobile phone," says the report.
While used less, cash remains the most important method of payment for one-off and small transactions.
Today's study showed around 21 billion consumer payments were in cash, but the vast majority - 80% - were below £10.
The report adds: "By 2050, using cash could well be a minority activity, much more the preserve of informal transactions."
Further reading/Key Links
Top cards: Best Bank Accounts, 0% Balance Transfers And Purchases, Best Balance Transfers