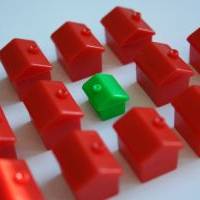 Mortgage holders whose interest is calculated once a year could save cash by switching to a deal where interest is worked out on a daily basis.
Anyone with a home loan from Halifax, Lloyds TSB or Cheltenham & Gloucester (C&G) can make the switch to daily interest for free by calling the lender. You'll also keep the same rate.
The trio, all part of the Lloyds Banking Group, account for approximately 29% of the 11.7 million households with a mortgage.
The switch could save you almost £170 a year on a typical loan (see the Cheap Mortgage Finding guide).
Annual interest mortgages are rarely sold any more so if you have one it's highly likely you've had it for years.
Therefore, brokers suggest that if your interest is calculated annually you should consider switching mortgage completely, though that may not be best for everyone.
Most lenders outside the Lloyds Banking Group (such as Barclays, Royal Bank of Scotland and Santander) do not generally allow you to make the switch from annual to daily interest for free while maintaining your existing rate.
Often, you'll need to change product completely, but it doesn't mean you cannot ask for a favour.
Why is daily interest cheaper?
Every payment you make reduces your balance, and the lower your balance, the less interest you pay. Mortgages where interest is calculated daily keep track of those monthly payments.
If lenders' sums are done once a year, they do not factor in all payments so interest is calculated on the balance at the start of the year which will be higher than later in the year.
Accounting years normally begin at the end of December or January (see the Annual Interest Mortgages MSE news story for lender-by-lender dates).
On a £150,000 home loan with 20 years to run at 5% interest, you'd pay £11,868 a year on daily interest and £12,036 on annual interest - a £168 difference.
If you're behind on payments it's usually best to remain on annual interest because arrears charges increase your balance.
Check your rate
David Hollingworth, from broker London & Country, says: "It may be best to switch to a daily interest deal but if you are on an annual interest mortgage it may be time to review your mortgage altogether.
"It could be that it would be best to move to a totally new deal but consider all costs before deciding. The vast majority of new deals will be on daily interest."
Many annual interest mortgage holders will be on their lender's standard variable rate (SVR), which most deals revert to after an introductory period.
SVRs have traditionally been expensive but some are low because base rate is at an historic low of 0.5%.
If you're with Lloyds TSB or C&G it's likely you'll be paying the pair's 2.5% SVR, or 3.5% if with Halifax. Not all SVRs are this low, however.
Always consider the full cost of switching, including all fees. Also consider if you want the security of a fixed rate deal or want to gamble on a variable rate loan (see the Is it time to fix? MSE News story).
If you're not financially savvy, talk to a whole of market mortgage broker for advice (see the Cheap Mortgage Finding guide).
Further reading/Key Links
Mortgage cost-cutting guides: The Remortgage guide, Mortgage haggling, Cheap mortgage finding, Ditch my fix?