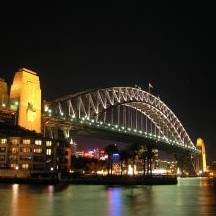 The bank charges reclaiming bandwagon has reached Australia with 12 of the country's biggest institutions facing a $5 billion class action.
Reports in Australia say the move is the largest in the country's history. It has echoes of the grassroots campaign in the UK to reclaim fees for exceeding your overdraft.
Consumers in the UK reclaimed over £1 billion before the banks won a landmark test case late last year
This was done via claims from individuals, with help from sites such as MoneySavingExpert.com, rather than via action fronted by a law firm on behalf of thousands, as it happening Down Under.
Those in hardship in the UK can still attempt to get charges back despite the banks' victory (see Bank Charges Reclaiming guide).
Aussie action
The Australian uprising is over excessive overdraft and credit card penalty charges. Down Under, some banks charge up to $60 (£34.50) a time.
It is believed consumers will try to win back up to $5billion (£2.89bn) of fees collectively, levied over the past six years.
Legal firm IMF (Australia) Ltd, which is spearheading the campaign, expects half a million Australians will sign up to reclaim charges.
IMF predicts individuals are likely to claim between $1,000 and $2,000 each, while a typical business claim might be between $3,000 and $6,000.
Massive response
More than 2,000 people are reported to have signed up to the class action in just two hours when IMF Australia said it would bankroll the case this month.
The 12 banks targeted include Australia's four biggest: ANZ, Commonwealth Bank, National Australia Bank and Westpac. Foreign banks such as HSBC and Citibank will also be face action, it's been reported.
An IMF spokesman says: "Until very recently, some banks charged you up to $60 if you became overdrawn, went beyond an agreed limit, or made a late payment."

If it wins, IMF will pocket 25% of any damages awarded by the court, but if it loses it will charge nothing.
Further reading/Key links
Ombudsman guide: Financial Fight Back
Full reclaiming guide inc. free template letters: Bank Charges