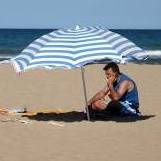 The cost of using a mobile in Europe has been cut again, the European Commission has confirmed.
From 1 July the maximum mobile networks will be allowed to charge for calls made to an EU country whilst inside another EU state will be €0.39 (32p) per minute, down from €0.43 (35.5p). For receiving calls the price cap will be €0.15 (12.5p) per minute, where currently it's €0.19 (15.5p) (see the Mobile Roaming guide). All prices are excluding VAT.
So bills for calls made home to the UK while on holiday in most European nations will be 10% less than last summer.
The maximum cost of sending a text message will stay at €0.11 (10p) each. Receiving text messages will also remain without charge.
Compulsory maximum roaming rates came into force in 2008 as it became apparent mobile operators were making profits of more than 200% for mobile calls made while in another EU country, and 300% or 400% for calls received.
Gradual annual roaming price cuts on 1 July each year, up to 2011, were published by the European Commission in April 2009. Though these are reviewed the month before they're due to come into affect.
The confirmation of this latest price cap came just hours after The European Court rejected the big four mobile operators, Vodafone, o2, T-Mobile and Orange, claim that the Commission exceeded its powers two years ago by imposing a uniform maximum roaming charge.
Automatic cut off limits on every customers' account
From 1 July operators must also apply an automatic €50 (£41.50) bill cut-off limit if customers haven't agreed and set up one in advance. This is to tackle 'bill shocks', as customers can unknowingly mount up charges by making calls and surfing the internet on their mobile.
The wholesale cap price per megabyte of data transferred while roaming abroad is being cut from €1 to €0.80 too.
The Commission says: "Consumers can now move around Europe without being afraid to turn their mobile on.
"The difference in national mobile charges and roaming charges illustrate the lack of a single market in telecoms services.
"Since the costs of providing roaming services should not be substantially different from those incurred when providing domestic mobile services, there is no justification, in a competitive market, charging customers considerably higher prices for roaming services."
The Commission will look at its roaming rules again in a review in June 2011, when there may be even more price cuts. The ultimate aim is to reduce the gap between domestic and roaming tariffs to virtually zero by 2015.
Archna Luthra, MoneySavingExpert.com consumer products analyst, says: "This is another step in the right direction, the automatic cut-off will certainly be a big help to those getting caught out surfing the net overseas. However this only applies within the EU and it's possible to slash the cost below the caps quite easily.
"Consumers should check their provider's overseas bolt-ons and offers, which you only get when you ask. Or look at using a special overseas Sim card to really save."
Cut roaming costs in the EU further, plus in non-EU countries too
The capped tariffs only apply to mobile phone use in EU countries, so making and receiving calls, plus sending text messages, elsewhere in the world is still extremely expensive, up to £1 per minute.
But there are a few practical tricks to minimise the cost in most destinations.
It's free to receive texts. No matter where in the world you are, it's free to receive text messages so ask friends and family to text rather than call.
Switch off voicemail. Whether the phone's off or on, if someone calls and it transfers onto voicemail most networks charge the overseas rate for receving the call. On top of this, listening to the voicemail, which involves calling the inbox, means you'll be charged the overseas rate again.
It's usually cheaper to receive than call. So if you must have a conversation ask to be called back and you'll reimburse the cost, if necessary.

Better still, ask to be called on the hotel's phone number, as a foreign landline can be dialled for a lot less than an overseas UK mobile (see the free International CallChecker tool).

Get a local Sim card. Buy a pay-as-you-go Sim for the specific country you're travelling to and you'll get call and text rates at local prices. You can do this in advance by ordering online or buy one once you reach your destination.
Further reading/Key links
Slash the cost of phone calls: Mobile Roaming, Mobile Phone Insurance, Free Texts, Mobile Phone Contracts, International CallChecker
Cut the cost of holidays: Cheap Flights, Cheap Hotels, Cheap Travel Insurance, Cheap Travel Money