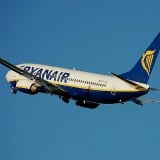 Ryanair has once again been reprimanded for misleading customers with low fare offers, a watchdog said today.
Two national press ads for the budget airline offered £10 one-way fares to Gothenburg and Düsseldorf, with small print explaining the offer was subject to availability and excluded optional fees (see the Budget Airline Fee-Fighting guide).
The Advertising Standards Authority (ASA) said in its report that readers were likely to believe the £10 deal was a fixed price when dates were restricted.
Rival Easyjet challenged the availability of the fares and queried if they included taxes, charges and check-in fees or were misleading because the ad did not state the relevant travel dates.
Defending the ad, Ryanair said more than 10,000 seats were available to Gothenburg and more than 22,000 seats were on offer to Dusseldorf.
More than half the seats sold to Gothenburg and more than 40% of seats sold to Düsseldorf during the four-day sale were booked at a lower £5 promotional fare, and the fares in the ads included all taxes, charges and non-discretionary fees.
The airline added there was no requirement for advertisers to include the specific travel dates for offers, but said the campaign was for flights between January 1 to February 28 this year.
The ASA says: "Because we considered that consumers would understand '£10 one way' to mean that all flights to Gothenburg and Dusseldorf were available at £10, and because we had not seen evidence to support that claim, we concluded that the ads were likely to mislead."
It has told Ryanair to ensure all seats are available at the quoted fare or to state prominently that seats are available "from" a particular price.
In July last year, Ryanair was forced to modify its website so its multitude of extra charges and booking conditions were more visible to flight bookers.
Further reading/Key links
Slash flights costs: Ryanair Flight Sale and Budget Airline Fee-Fighting