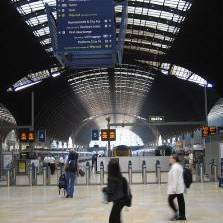 Some train companies are charging peak rates well outside busy travel times to boost revenue, it is claimed.
The East Coast train company and West Coast Main Line operator Virgin Trains both start their "evening peak" from mid-afternoon, consumer group Which? says (see the Cheap Train Tickets guide).
This means East Coast's evening peak now lasts four hours. By comparison, others companies, including Chiltern and Merseyrail, do not have an evening peak.
Some passengers could therefore pay a peak price for a journey that starts at 3pm.
'Confusing'
Which? also says other companies make things "very confusing" for passengers.
For instance, East Coast's morning peak to London ends at 10.05am unless you are travelling first class, or travelling with an off-peak day return or travelcard, or on a super off-peak ticket.
Other companies are more straightforward. Merseyrail's morning peak ends at 9.30am as does that of train company Northern at Leeds, Liverpool and Manchester.
Which? says: "You'd be forgiven for not knowing if you're coming or going, yet the Association of Train Operating Companies (Atoc) claims 'four out of five passengers are happy with their journey'."
An Atoc spokesman says: "Demand differs greatly at different times in different parts of the country, so it's not surprising that peak times vary.
"Millions of people travel on the railways every week and the overwhelming majority buy the right ticket and get on the right train with no problem whatsoever."
Slash train costs
There are many ways to cut the price you pay for train travel (full details in the Cheap Train Tickets guide).
Archna Luthra, MoneysavingExpert.com consumer products analyst, says: "Buying early can get you cheaper fares as you can buy two singles instead of a return, in some cases, which can slash costs.
"For longer journeys, try the sneaky trick of split ticketing. Here, buy your single journey in two parts; for example, London to Penzance is often cheaper if you buy London to Plymouth, and another to ticket from Plymouth to Penzance."