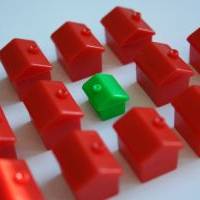 The cost of five-year fixed rate mortgages is at its lowest ever level, prompting some brokers to suggest borrowers should snap them up soon.
Data firm Moneyfacts says the average five-year fixed rate of 5.36% is the cheapest it has ever seen (see The Remortgage Guide and First-time Mortgage Guide).
ING Direct's deal at 3.69% is the lowest fix on record over five years, Moneyfacts adds. However, the mortgage comes with a high fee of £1,945 and is only available to those with a 40% deposit meaning it is not suitable for everyone.
HSBC's 3.94% deal with a £99 fee is an alternative for those with the same down payment.
Five-year swap rates, the rates at which many lenders borrow money to lend as five-year fixes, hit an all-time low on Tuesday last week.
With costs so low, some brokers believe now is the time to lock-in for five years, as interest rates will have to rise at some point.
But not everyone agrees that homeowners or first-time buyers should fix.
The best tracker rates that could last for at least five years, are still around 1.5 percentage points below the best five-year fixes. HSBC offers a lifetime tracker at 2.19% with a £99 fee to those with a 40% deposit. Barclays offers 2.68% with no fee to borrowers with a 30% deposit for the life of the loan.
Those rates will move up or down in line with the Bank of England base rate, though the Barclays home loan allows you to switch to a fix at any point with no fee.
When choosing a mortgage, beware that some lenders make their deals exclusive to those switching home loan so are not available to all home buyers.
Meanwhile, many borrowers are sitting comfortably on their lender's standard variable rate (SVR). These are the rates deals often revert to after an introductory period ends and are usually expensive.
However, with the base rate at an historic low of 0.5% some SVRs are as low as 2.5%.
What should you do?
To help borrowers and first-time buyers make up their mind, we asked three leading mortgage brokers for their opinion:
Andrew Montlake, from Coreco, says: "There are many people who should be taking a long-term fix. The ING rate, for instance, is tremendous.
"The cheapest variable rate is around 2.2%. You're not telling me rates won't go up by 1.5% over the next three years, are you? Over five years will you win on a fix? I'd say 'yes' in all probability.
"Many people are sitting dangerously on variable rates. They should be asking themselves whether they can afford a large rise in interest rates.
"At the end of the day it comes down to personal opinion but I would pay a little extra now to save myself some sleepless nights."
David Hollingworth, from London & Country, says: "Five-year fixes are not for everyone but they are a good idea for those who need stability.
"We just don't know what will happen to the base rate. If you're thinking of a tracker you should be asking yourself if you can afford a five percentage point rise in rates.
"Remember, a 0.5% base rate is not normal. Even 5% is low.
"If you wait for the base rate to move before fixing you will not get the rates you can now because they will have gone by then."
Ray Boulger, from John Charcol, says: "I expect base rate will remain at 0.5% until at least the middle of next year. When it does rise it is likely to be slowly.
"I think the current differential of about 1.5% between the best trackers and fixes is too high if making a judgment on the basis of which will deliver best value.
"While borrowers who are keen for interest rate protection are unlikely to get a five or ten-year fix much cheaper next year I think those with a low variable rate will benefit from it for many more months and will still be able to switch to a five or ten-year fix at similar rates to today.
"I see little value in short term fixes for most borrowers and anyone looking for interest rate security should opt for a five to ten years. Ultimately, borrowers will have to decide whether the benefit of interest rate security overrides the expectation that staying variable for now will be cheaper.
"Many people are very comfortable sitting on a low variable rate. If rates stay low for a while and only rise slowly there is little reason to remortgage if their rate is low enough, say under 3%."
Further reading/Key links
Mortgage cost-cutting guides: The Remortgage Guide, First-time Mortgage Guide, Cheap Mortgage Finding, Ditch My Fix?
Get help: Mortgage Arrears, Redundancy Help