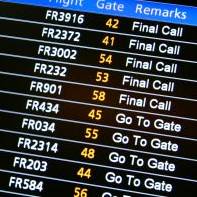 This week's rise in Air Passenger Duty (APD) airport departure tax will make family holidays "unaffordable for many", Sir Richard Branson's airline Virgin Atlantic warned.

APD rates increase on all flights departing the UK from today, with those taking trips to the Caribbean being particularly badly hit.

Those flying economy class to the Caribbean from next week will each pay £75 in APD, a 50% hike on the previous £50 rate.

The Caribbean has been put in APD Band C, meaning passengers will pay more to fly eight hours to Barbados than to Los Angeles, a 12-hour flight.

This is because the whole of the USA has been put in Band B, where APD rates are slightly lower.

Of course the original reason for this tax levy, and any increases, is to put the cash towards the effects air travel has on the environment.

Huge costs for families to pay out

The increases mean that a family of four holidaying in New York from this week will pay a total of £240 in APD, with economy seats. Between 1 November last year and yesterday this figure would have been £180.

For an identical trip during February 2007 and October 2009 the tax cost would have been £160. And prior to February 2007, less than four years ago, just £20 per person.

Also, a couple travelling to Australia, for example, and flying in premium economy class will pay £170 each, the highest APD rate - equal to the charge business and first class passengers pay.

Julie Southern, Virgin Atlantic's chief commercial officer, says: "Holidays are an essential part of our lives and are valued even more in these difficult economic times.

"With passengers now being asked to pay up to 10 times more tax since APD's introduction, the annual family holiday will become unaffordable for many.

"Given the forecasted rises in APD over the next five years, all travellers will be more than paying their fair share and in fact contributing more to the Treasury than the banks via the new banking levy.

"Our message to the Government is that this absolutely has to be the last time that the travelling public faces APD rises."

Majority of people unaware of the flight cost increase

A Virgin Atlantic survey of 2,000 long-haul flyers showed that due to the APD rises, 56% of holidaymakers believed they may have to cut the number of stays away while 58% would consider taking less holiday money to spend.

Also, only 44% of those polled were aware of this week's changes.

Caribbean tourist chiefs are outraged at the APD rise, while British Airways chief executive Willie Walsh has called the tax "a disgrace".

Travel organisation Abta and other travel industry bodies have continued lobbying ministers to protest at the new APD rates.

The Government is considering replacing APD with a per-plane tax, but not all the travel industry is happy with the alternative plan.

Flight prices need to be more transparent

APD is automatically added to the price of an air ticket when it is paid and booked.

You also pay tax for entering the UK, although that amount is chosen and kept by the country you've departed from.

Yet Phil Salcedo, publisher at Travelzoo UK, which does not sell holidays but publishes details of the best deals, says: "Around 30% of the travel deals that we check simply don't include taxes in the price.

"This means that, with this new increase in tax, travellers need to be extra wary and make sure the price they expect to pay doesn't massively increase when they get to a page of taxes."

Flights booked prior to today will already have had the correct APD applied to them at the time of payment. This is because the tax increases have been scheduled to take effect since the last government's 2008 Pre-Budget Report, when APD was restructured to bands instead of only Europe and non-Europe categories.

Inconsistent 'destination bands'

The banding arrangement for the new APD rates are provoking strong feeling in the travel industry.

It is possible to fly as far as Hawaii and pay less for APD than for a trip to the Caribbean. It's an anomaly caused by the way each country is calculated to fitting into each of the four bands. Categorisation is determined based on the distance between its capital city and London.

As Washington D.C. sneaks in at just under 4,000 miles away from London, the entire 50 states fall into the second cheapest band.

Also Turkey falls into Band A, while Egypt is classed as Band B. This means a family of four travelling in economy class to Turkey will pay £48 APD in comparison to £240 in APD for the same family to travel to Egypt.

Bob Atkinson, of travelsupermarket.com, says: "The tax bands aren't consistent. APD is a flat tax and is therefore regressive. The tax should apply to the actual mileage or as a percentage of the total paid.

"There needs to be a complete revamp of the APD scheme. It should be replaced by a per plane tax so that we can then see the environmental efficiency of each airline and their aircraft, which would be far more responsible and help customers to choose between airlines."

Passengers might try to bypass taxes

Budget airline easyJet called for the APD to change from a per person to a per plane tax.

Carolyn McCal, its chief executive, says: "The Government should reform Air Passenger Duty to make it fairer for the public and to encourage greener behaviour by airlines.

"APD is already higher in the UK than anywhere else in Europe and UK passengers and the environment would be better off if the tax was shifted from per person to a per plane tax."

Gareth Williams, chief executive of flight comparison site Skyscanner.net, says: "The tax hike could certainly lead to travellers considering flying long haul from European hubs in an effort to save money.

"In a recent survey we found that more than three-quarters of our users would be willing to fly indirectly to save money. Obviously if this does prove to be the case it could have serious repercussions for the long-haul UK aviation industry."

The new charges

This is what passengers will have to pay for APD from today, with the percentage increase on the rates introduced in November last year.

Premium relates to prices for those travelling in premium economy, business class and first class seats.
New outbound air travel taxes for economy tickets

Destination Band

Pre-Nov Charge

New Charge

Change

A (eg France, Italy, Turkey)

£11

£12

+£1 (up 9%)

B (eg Egypt, anywhere in the US)

£45

£60

+£15 (up 33%)

C (eg Jamaica, Malaysia)

£50

£75

D (eg Australia and NZ)

£55

£85
New outbound air travel taxes for all premium tickets

Destination Band

Pre-Nov Charge

New Charge

Change

A (eg France, Italy, Turkey)

£22

£24

+£2 (up 9%)

B (eg Egypt, anywhere in the US)

£90

£120

+£30 (up 33%)

C (eg Jamaica, Malaysia)

£100

£150

D (eg Australia and NZ)

£110

£170
Should airlines cover the increase?
Asked whether the airlines would be prepared to take on the extra costs passengers now incur, British Airways chief executive Willie Walsh told Sky News: "No. We can't afford to take on the tax burden. We're talking about paying almost £450 million on an annual basis to the Exchequer through this tax.
"That's £450 million that British Airways does not have.
"These are very significant tax burdens that need to be addressed by the Government if we are to contribute to the economic recovery that everybody wants to see."
Additional reporting by the Press Association.
Further reading/Key links
Cut the cost of holidays: Cheap Flights, Cheap Hotels, Cheap Travel Insurance