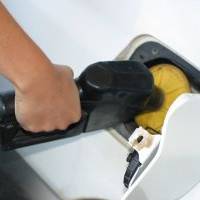 Consumers can now benefit from cheaper prices at the pumps as three major supermarkets have reduced petrol prices.
Asda, Morrisons and Tesco have today all cut the cost of both diesel and unleaded petrol at the majority of their garages nationwide.
The cuts come following a sharp drop in the price of oil, leading some analysts to predict further falls in what would be welcome relief for hard-pressed motorists.
However, motoring giant the AA has accused fuel providers of delaying that drop by only now reducing prices when they have already fallen by 6% in other EU countries.
Supermarket drops
According to PetrolPrices.com, the average cost of unleaded was 137p yesterday and 143p for diesel.
However, these average prices will drop in the coming days as supermarket price falls take effect.
Asda has slashed 1p per litre off the price of unleaded and 4p per litre off diesel. Its average price for diesel is now 136p and the average price for unleaded is 135p.
Morrisons has cut 1p per litre off unleaded and 2p to 3p off diesel depending on where in the country you get your fuel from.
Its average prices taken on Sunday before the cuts came into force were 135p for unleaded and 141p for diesel although Morrisons promises diesel will now cost under 140p nationwide.
The vast majority of motorists filling up at Tesco will get a 1p per litre reduction on unleaded. On diesel, every motorist will get a reduction of up to 3p per litre.
Tesco customers can further benefit as it is also currently running a promotion that offers customers a 5p per litre reduction on petrol when they spend at least £50 in store.
Oil price down
Brendan McLoughlin, managing director of fuel price comparison site PetrolPrices.com, says: "The price of oil has fallen in the last few weeks as supply is currently greater than demand.
"The effect of this is now being seen at the petrol pumps as supermarkets lead the way in cutting prices and it's likely that others will begin to follow suit. We may see a three to four pence cut from current prices."
The price of Brent Crude oil was $115 at midday today compared to $126 just over a month ago on 8 April.
A spokesman from motoring giant the AA says: "In Germany prices at the pumps dropped by 6% in April following the dip in the cost of oil. One of the reasons the same drop may not have been seen in the UK is that there is a lack of transparency in the market.
"If consumers knew what the oil and wholesale prices were they would be better equipped to see how these figures should be translated at the pumps.
"Also, it generally seems that the market waits for supermarkets to make the first move, before then deciding whether or not to follow suit."