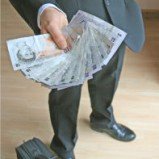 A record number of consumers complained about mis-sold payment protection insurance (PPI) during the past financial year, despite the banks' attempt to block reclaiming.
A mammoth 104,597 consumers made a complaint to the independent Financial Ombudsman Service on PPI in the year to 31 March – over 2,000 a week (see the PPI reclaiming guide for template letters).
That is more than double the 2009/10 figure and is the highest-ever recorded on a single product, eclipsing the previous record of 69,737 on mortgage endowments in 2004/05.
PPI – to cover credit card or loan payments if you cannot work – represented 51% of all claims to the Ombudsman in 2010/11, with 66% upheld, against an industry average of 51%.
As a result, the Ombudsman has become swamped by PPI complaints leading to huge backlogs meaning cases can take well over a year to resolve.
The record numbers are in spite of banks' unilateral hold on claims during their disastrous attempt to outlaw Financial Services Authority (FSA) rules that force them to proactively contact mis-selling victims.
The British Bankers' Association trade body lost its key Judicial Review last month and threw in the towel last week, when it announced it would not appeal the decision after key members, Lloyds Banking Group and Barclays, pulled out. As a result, the hold is now over.
The capitulation opens the floodgates for an estimated three million victims to reclaim a combined £9 billion in mis-sold cover.
The Ombudsman figures only account for complaints to it, not overall protests. Before reaching the independent arbitrator, consumers must first raise their concern with the firm that sold the policy.
Close to two million have made a complaint since the FSA began regulating PPI in 2005.
Non-PPI complaints
In total, the Ombudsman handled over a million front-line enquiries and complaints from consumers – around 4,000 each working day.
Around 1 in 5 of the initial consumer enquiries – a record 206,121 new cases – become a formal dispute. This is up 26% on the previous year.
There was an increase in the number of complaints about mobile phone insurance where many questioned the value of the policies sold.
Complaints about loans from smaller lenders rose considerably, as did gripes about travel and motor insurance. Meanwhile, investment complaints fell by 30% and banking complaints were down 9%.
Natalie Ceeney, chief ombudsman, says: "Aside from PPI, over the year we've seen encouraging signs of improvements in the way that some businesses are handling complaints."