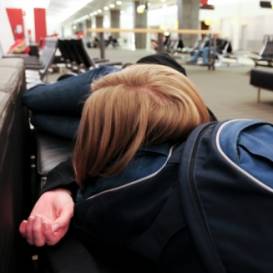 Disruption at airports caused by the latest Icelandic volcanic ash cloud crisis is expected to spread to some northern England airports later today.
The eruption of the Grimsvotn volcano has already led to airlines cancelling a number of flights to and from Irish and Scottish airports, while some trans-Atlantic flights have been hit.
However, many experts do not expect the mass closure of European airspace for days that we saw when another volcano in Iceland erupted last year (see the Volcanic ash to hit UK MSE News story).
MoneySavingexpert.com has been besieged with emails from worried travellers due to fly in the coming days or weeks.
Below are your rights and what you should do, though it depends how you booked.
Before you read them, think very carefully before cancelling a flight, as then, you lose many of those rights.
Package holiday bookings
You will either be offered alternative transport (whether you're abroad or still in the UK) or an alternative holiday.
If still in the UK and the alternative holiday is unsuitable, you'll be refunded all elements of your package.
How to claim/get assistance. If in the UK, contact your tour operator or travel agent. If overseas, contact your travel agent or rep.
DIY holidays, where you've booked elements separately
If your flight is from an EU airport or if on an EU carrier (when flying from outside Europe to Europe) you should get a refund or an alternative flight, under EU regulations.
If your flight is cancelled or delayed by over five hours. Airlines must offer you a full refund within seven days of any unused ticket or, if the flight is cancelled, allow you to rebook. If you cannot get to your destination, you'll also get the return leg refunded.

If you booked your outward and return legs separately, and your return flight goes ahead, but you were unable to reach your destination, it's more complicated. You should get a refund for the return trip as long as both flights are booked with the same carrier, but you're at the mercy of your airline. You may not get a refund if booked with different airlines.


If taking a connecting flight. If you've already made part of your journey, and the next leg is cancelled, you are entitled to your money back within seven days for any unused flights and a free flight back to your departure point.


How to claim a refund/rebook. Contact your airline. Many airline websites clearly explain the refund or rebooking process. If unsure, call.
Will I get costs reimbursed while I wait for my flight?
You are entitled to meals and overnight accommodation for long delays. You are also entitled to transport between the airport and your hotel plus up to two phone calls.
However, this only applies while you have an active booking so if you cancel a flight you lose these rights.

How to claim. If your airline provides these for you, there is nothing to claim. If not, keep receipts and claim in writing from your carrier when home.
Will I get extra compensation from the airline?
If the airline is not at fault, as in this case, it only has to refund your ticket and cover any expenses – nothing else.
What about hotels and car hire?
You may have paid for other parts of your holiday in advance, as well as flights or a package. These may include accommodation, car hire or other activities.
Many of these may be refundable so contact the service provider to check. If you can't get your money back, see below.
Will travel insurance pay out?
As your airline is usually responsible for refunding the cost of travel or costs while waiting to fly, travel insurance will primarily kick-in to cover non-airline losses, such as non-refundable hotel bookings.
However, some policies may also pay-out a fixed sum for delay or cancellation even where you get your money back from an airline.
As ever with insurance, there is never a simple answer to whether or not a policy will pay out as it depends on the insurer.
Many companies now exclude volcanic ash following last year's eruption. Others require you to purchase separate cover for natural disasters.
Even where a policy will normally cover the ash, it will only do so if you bought both the insurance and the travel before the eruption.
If your flight is cancelled and you do not travel, insurers will usually refund your premium if you took out single trip travel insurance.
Card company refunds
If you paid for your holiday on a credit card the plastic provider is jointly liable with the travel company if it breaks its contract. However, in this case, it's unlikely you will be able to, or need to, use this protection.
This is because your airline should cover flying expenses, while if you cannot get to your destination and therefore cannot stay in a pre-booked hotel or use a pre-booked car hire agreement, that company has done nothing wrong.