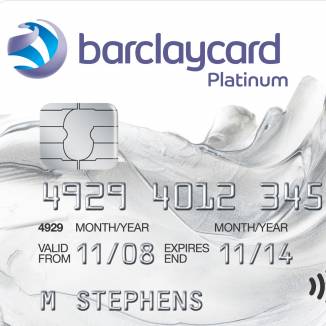 Barclaycard has launched the longest-ever interest-free balance transfer credit card offer – lasting a huge two years.
The Barclaycard Platinum has extended the previous 20-month offer and reduced the fee for transferring the cash from another plastic from 3.2% of the amount shifted to 2.8%. However, only those with a decent credit score will qualify for the card.
In addition, you will get £20 off the balance transfer fee if you transfer £3,000 or more, but only if you apply via the Barclaycard website. To see how this compares, read the full Balance Transfer Credit Cards guide
This would turn an £84 charge on £3,000 into £64, which is actually a 2.1% fee.
However, the way the fee is charged is clunky. Consumers will see 3.2% deducted from their statement but a day later they will get a refund to make it a 2.8% fee.
You can't balance transfer between two Barclaycards, so if you need a different provider to shift to you will need to consider other cards. Virgin Money offers 0% for 19 months with a 2.49% fee.
Dan Plant, MoneySavingExpert.com money analyst, says: "This is a quite flabbergasting deal – I had to sit down to avoid fainting when it popped into our inboxes.
"If you've got existing debts accruing expensive interest, there has never been a better time to take action – it'll still be at 0% when the Olympics are a distant memory."
Alternatives to 0% deals
If you need longer to pay off your debt, the MBNA Rate For Life card gives 5.9% on balance transfers for life, plus a 1.5% fee.
You don't necessarily need a new card to get cheap credit. It's possible to play the system and get much cheaper debt by utilising existing customer balance transfer deals. Simply call your provider and ask if it will offer a special rate.