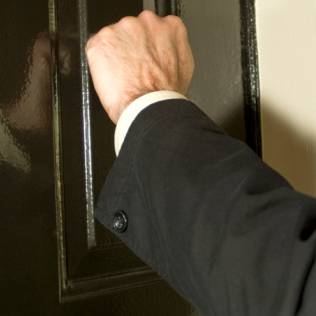 The country's largest energy supplier is suspending the controversial practice of doorstep sales.
British Gas says it will halt door-to-door selling for three months with immediate effect, though it is likely to be scrapped for good.
Key Points
BG ends doorstep selling for at least three months
Move likely to be permanent
Controversial practice blamed for mis-selling
The move brings a market-wide end to this irritating tactic for many consumers even closer, after Scottish and Southern Energy (SSE) suspended such sales last month after being found guilty of mis-selling.
Doorstep salesman are often accused of mis-selling products with false promises of cheaper bills.
British Gas managing director Phil Bentley told MoneySavingExpert.com in June that it was considering ending doorstep sales.
'All about trust'
Ian Peters, from British Gas, said today: "Doorstep selling, in its current form, is no longer a sustainable way to engage or build a relationship with customers.
"We want the energy advice we give our customers to be trusted and delivered at a time and place that is convenient to them."
British Gas says the method is out-dated, adding its decision will help bring trust back into the energy market.
It says the number of field sales agents is now less than a quarter of the 1,300 it employed in 2006.
Archna Luthra, MoneySavingExpert.com consumer products analyst, says: "It's good news that British Gas is the second company to suspend doorstep selling. Switching energy is usually the best MoneySaving thing to do, but not via doorstep sellers. Let's hope the others follow.
"If you don't want to be bothered by other energy salesman ensure you put up a no cold caller sign and they aren't allowed to knock. Plus, if you've been pressured into switching from a doorstep salesman and feel you've been treated unfairly, go to the Energy Ombudsman."
What next?
The giant will now consult with lobby group Consumer Focus before announcing its next move but its rhetoric appears to suggest it will introduce appointment-based selling instead.
Consumer Focus recently called for an end to this type of cold calling, and suggested energy suppliers should instead offer appointments.
Before suspending sales, SSE was found guilty in May of mis-selling during doorstep sales after its employees claimed residents could cut costs when they had no idea if this was true.