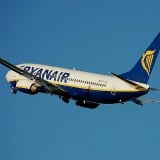 Ryanair, already the king of added fees, is about to change its rules to make customers jump through a new hoop to book flights at its advertised price.
It currently charges customers £6 per person each way (£48 for a family of four return) just for the privilege of paying.
It only gets away with this not counting as a compulsory part of the price as prepaid Mastercard customers can pay for free. But from 1 November, only those who pay with its own new plastic will get away charge-free.
Key Points
Only Ryanair cardholders to avoid payment fee from November
Currently, prepaid Mastercard holders avoid charge
Move comes as OFT cracks down on card surcharges
The move comes after the Office of Fair Trading (OFT) pledged to crack down on misleading card surcharges in June, following a super complaint by consumer lobby group Which?.
The controversial budget airline made the announcement as it revealed the launch of its new card, the Ryanair Cash Passport, a prepaid Mastercard, which will be available from 4 October.
It's not exactly convenient to avoid fees now. The £6 per leg charge is only waived on bookings using a prepaid Mastercard, which is a rare type of plastic, but the new policy will limit consumer choice over which card passengers can get, and adds another hassle for those who've already jumped through its payment hoop.
'Two fingers up'
Martin Lewis, MoneySavingExpert.com creator, says: "Ryanair is sticking two fingers up at every regulator and consumer group with this news.
"This is anti-competitive, it's an insult to loyal passengers who first got Electron cards so they could pay for free, then were forced to switch to prepaid Mastercards and are now being asked to dance again this time by getting its own prepaid card.
"Quite simply, Ryanair must be forced to include the booking fee in its headline price – this is not a voluntary fee – it's part of core pricing. Westminster, Brussels are you watching? It's rubbing your nose in it – it's time to sort it out!"
The OFT says card surcharges have to be made clear to consumers. It has also called on the Government to update laws to stop traders charging for debit card payments.
Ryanair spokesman Stephen McNamara says: "Ryanair's £6 admin fee will not apply to any bookings made with Ryanair Cash Passport and there are no transaction charges for using the card at UK merchants until 31 March 2012, so we recommend that UK passengers make the switch to Ryanair Cash Passport as soon as possible."