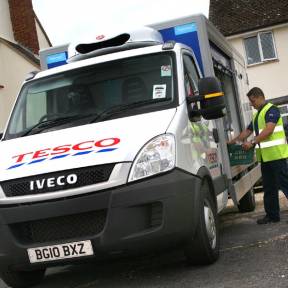 Online grocery shoppers should beware a possible hike in the cost of their food and drink between order and delivery dates.
Key Points
Prices can fluctuate between order and delivery dates
Beware expiring offers
Know your 'substitution' rights
One MoneySaver has reported a £26 rise in the cost of groceries between ordering and paying, which can play havoc with budgeting plans.
When consumers shop for groceries online at the major supermarkets their card is charged on the delivery day, even though different prices are often displayed when ordering.
For some, this could mean they pay less than first thought.
There are three primary reasons why prices can change:
Food and drink are volatile commodities that can go up or down in cost at the flick of a switch.
Special offers or deals, such as 50% off or 2for1s, at the time an order is placed, may not be available on the delivery day.
Prices for weighed items such as fruit and meat can often vary from what is listed online, as it depends which products are picked by shop staff.
Which supermarkets display what prices?
Asda, Sainsbury's and Tesco: Their online checkouts show prices on the day of order, but customers are charged using the prices on the delivery day.
Ocado: When consumers order, its online checkout will show guaranteed prices on the delivery date, with the exception of items that need to be weighed.
Waitrose: Its online checkout will show prices on the delivery date on full-price items, other than those that need to be weighed. It won't deduct savings from offers at the checkout. This means the final price you pay could be much less than what is shown on the day of order.
All of the supermarkets say they make it clear the total cost at checkout is estimated and is subject to change.
How shoppers are caught out by expired offers
We've been contacted by many MoneySavers who have been caught out by these terms.
One told us she ordered 26 packs of Pepsi at Sainsbury's online on offer at £1 each, only to realise on the day of delivery the deal had expired. She was charged £52, instead of the expected £26.
Another MoneySaver purchased some wraps as they were on offer at £1, only to find on the delivery day they were charged £1.52 as the offer had ended.
A quirk in the Asda, Sainsbury's and Tesco systems means the price their customers see at checkout will include any discount applicable on the order date even if the supermarket has separately made it clear in writing the offer will have expired by the delivery date.
Therefore, when shoppers pay, they could be charged more if the deal is no longer valid on the delivery date.
So when ordering, carefully check any deals or offers will still be valid. The major supermarkets all list offer expiry dates online.
What if my item is not in stock?
Many shoppers find their order is not complete when delivered because the supermarket has sold out of that product between order and delivery date.
In such cases, you are normally given a substitute, which could cost more or less.
If you're not happy with the substitute, you can give it back to the driver. You will still be charged the full amount but you will get a refund a few days later. Most goods can also be returned in-store, as long as you take your receipt.
Can I return other items?
Even if the correct item is delivered you can return it to the driver or store if there's anything wrong with it or you didn't realise an offer had expired, the supermarkets say.