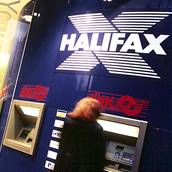 Halifax has launched what is believed to be the first ever 'rate for risk' 0% deal. While long term credit cards APRs normally vary with successful applicants' credit scores, until now 0% deals were fixed for all. It's feared if more firms go this way, it could set a worrying precedent for borrowers.
The All In One Credit Card offers an advertised 0% on balance transfers and purchases for 15 months, with a 3% fee on transfers.
While this is currently the longest all-rounder card, only a minimum of 51% of successful applicants will get the promotional offer. Those with the top credit histories are most likely to get it.
Halifax applicants with slightly poorer credit scores will instead receive a 0% introductory offer of 13 or 11 months.
The move is not completely alien, as those with patchy credit histories are sometimes offered a worse type of plastic altogether by card firms. However, the concept of offering a different type of 0% deal to different borrowers is believed to be new.
What the rules state
EU rules state card firms must "reasonably expect" 51% of applicants to get advertised "representative" rates.
Lenders usually apply this to long-term rates that cards revert to standard interest rates. Meanwhile, they usually offer the advertised 0% or other promotional deal to all successful applicants.
The worry is this move by Halifax to apply the ruling to special offers could set a new trend, which could disappoint many wannabe customers.
'This could change things forever'
Martin Lewis, MoneySavingExpert.com creator, says: "Previously, the one cast-iron certainty with these deals is if you were accepted for the 0% offer – though the go-to APR you jump to once it ends may depend on your credit score.

"The fact we don't even have official language to describe this deal – perhaps it's a 'representative promotional rate' – gives you a clue at how different this is.
"From the card company's perspective, it's a clever idea. It can promote its 0% deals to more people and give them to fewer.

"The concept isn't without some precedent though. Some card companies automatically give rejected applicants a much worse card with none of the features you went for – at least Halifax's move is certainly a step above that.
"Yet I suspect this means the 0% deal is about to change forever as this could sweep across the card landscape, so every time consumers will need to check their likelihood of getting the promo deal before applying."
Other top all-rounder deals
The next top all rounder card is the Barclaycard Platinum with 0% on purchases and balance transfers for 14 months, with a balance transfer fee of 2.9%.
If you've already got a Barclaycard the next longest deal is the Virgin Credit Card, which gives 13 months 0% on both purchases and balance transfers, with a fee of 2.89% on any debts transferred.