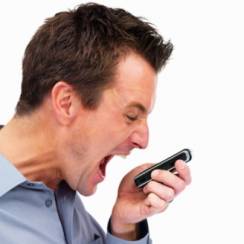 Mobile phone users could receive greater protection against unexpectedly high bills.
Industry regulator Ofcom today set out plans to tackle the problem of 'bill shock'. Its research shows 1.4 million users may have been hit by surprisingly high bills in the past six months.
It says this often happens when users surf the internet or download data, especially while overseas. Sometimes, especially with smartphones — such as the iPhone, Android and Blackberry — they are unaware their phone is using data. Ofcom wants providers to cap charges worldwide.
We have raised the issue many times of iPhone users being hit with bills sometimes totalling thousands of pounds for using the web overseas via their network, when they swear blind they turned this function off.
I was once charged after DEFINITELY keeping my data roaming function switched off while on holiday (see the Erroneous iPhone charges MSE News story).
Other bill shocks happen when users exceed their monthly calls allowance or where their phone is fraudulently used after it is lost or stolen.
The regulator will now work with the mobile industry on a series of measures which centre around providers better educating customers of where bill shock risks lie.
If these moves do not sufficiently reduce consumer harm, Ofcom may consider tougher action.
'Serious problem'
Communications Consumer Panel chair Bob Warner says: "As people become increasingly reliant on their mobiles, bill shock is becoming a serious problem for consumers.
"As well as the immediate financial impact of unexpected costs, there is also a risk that people become overly cautious of using their phones for data in case they incur extra charges, so aren't benefiting fully from the opportunities available."
As well as better education, Ofcom wants providers to:
Adopt caps on charges when abroad, as happens when users are in an EU country, under European law.
Do more to develop and promote 'opt-in' measures, such as tariffs that allow consumers to set their own financial caps or receive alerts about usage.
Limit the amount consumers are liable for if their phone is stolen.
Ensure charges are clear.