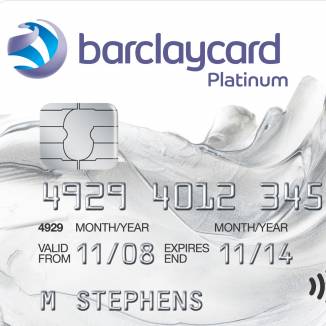 The UK's largest credit card company Barclaycard will slash the cost of withdrawing cash on a credit card abroad in time for the summer holidays.
Virtually all of the lender's 10.5 million UK customers will benefit from an end to interest charges if they pay their card off in full, plus no one-off cash withdrawal fee from next month.
There is a catch, though. The 'load' charge of 2.99% that you pay every time you use the card abroad (so taking out £100 worth of euros would cost £102.99) will have a minimum cost of £2.99 for cash withdrawals, so if you are taking out less than £100 this could be a very large percentage of the transaction.
For larger amounts, Barclaycard won't be the absolute cheapest credit card to withdraw cash on, but it will beat some specialist overseas cards in certain scenarios.
It also means users may only see a negligible gain by switching from Barclaycard to the top plastic.
However, Barclaycards will still be expensive to use for overseas purchases.
Lower overseas cash fees
The two key changes to overseas cash withdrawals, taking place on 28 May, are as follows:
No interest charges if the card is paid in full by the statement due date. Cardholders currently pay interest on cash withdrawals until the money is paid back. The interest varies by customer, though it can be almost 30% per year, even on a decent Barclaycard.
Barclaycard currently has two fees for taking out cash abroad: a withdrawal fee and a foreign exchange load fee, which together can hit 5.25%. Under the changes, you'll just pay the load, at 2.99%, as the withdrawal fee will be scrapped (it still stands on UK withdrawals). The table below explains:

Barclaycard overseas cash fees
Now
28 May
Now
28 May
Load fee
Withdrawal fee
2.75%
2.99% (min £2.99)
2.5% (min £2.50)
N/A
There may be a fee charged by the bank or machine you withdraw from, but this would apply to virtually any UK customer.
Everyone on a standard Barclaycard will benefit from the change. Only those on specialist cards for the wealthy won't, but the company says this represents a tiny minority of its customers.
Using Barclaycards for purchases will still be expensive, especially as the load fee rises from 2.75% to 2.99% on 28 May. Specialist cards add no fees on purchases.
What should you do?
Barclaycards will become a decent card for taking out money overseas, but not the best.
The Halifax Clarity card tops the tree as there are no fees to withdraw cash, though there is annual interest on cash between 12.9% and 21.95% until the amount withdrawn is paid back.
For every £100, assuming the money is paid back in a month, it will cost £2.99 on a Barclaycard or between £1.10 and £1.85 with Halifax.
However, Barclaycard may be able to beat the Post Office credit card on overseas cash, which is one of the better overseas cards. Using the example above, the Post Office charges £5.
Be warned: if you don't pay off the foreign currency on a Barclaycard by the due date, charges are high. Meanwhile, small withdrawals abroad will still be expensive. Taking out £10 will cost £2.99, a 29.9% fee.
Dan Plant, MoneySavingExpert.com money analyst, says: "If you already hold a Barclaycard, this is potentially good news.
"Ditching ATM fees and interest on overseas withdrawals if you pay them off quickly will make it a decent choice, though it is sadly keeping load fees – the hidden nature of which can confuse people - and actually making them more complex for withdrawals smaller than £100.
"This will still rarely beat the specialist credit cards for spending overseas, and we'd still say most people should go down that route.
"But if you prefer using cash in far-flung destinations, and will definitely pay it off in full once your statement arrives, it might be worth dusting off your Barclaycard before jetting off."