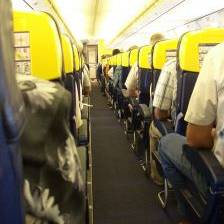 Ryanair customers on flights leaving Spain this summer could be forced to pay extra to travel, even if they've already bought tickets.
The budget airline says this is to cover potential rises in airport taxes, expected to be implemented when the Spanish government's budget is passed in June.
With the budget still going through Spain's parliament, it is unclear what the increase will be. However, as any tax rise is expected to be immediate from ratification date, it is likely to hit just in time for the summer holidays.
Ryanair says in an email to passengers it has been "advised by the Spanish Government of a budgetary proposal to increase airport charges later this month".

It continues: "We are advising customers with a reservation that includes a flight departing from a Spanish airport that we may be forced to debit passengers for any Government-imposed increases in airport charges prior to your travel date.

"Once the Spanish government budget is published Ryanair will advise affected passengers by email of any additional airport charges that may apply to your reservation before any charges are made."
Ryanair's Stephen McNamara says: "The Spanish budget proposes to double passenger charges at Madrid and Barcelona airports, as well as imposing smaller increases at other Spanish airports.
"It appears these increases will become effective immediately after the budget is passed and any passengers who have already booked to travel later this summer will have to pay these higher fees, if the budget is approved by the Spanish parliament."