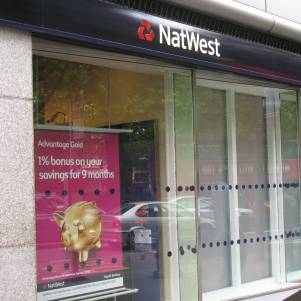 Update, 25 June. See the updated NatWest nightmare story today for more up-to-date information.
Millions of NatWest, RBS and Ulster Bank customers are still experiencing major problems, on day three of the banks' meltdown. Update, 23 June: we are now into day 4, with little change for beleaguered account holders.
Many have been left without cash after "technical problems" struck the sister banks, leaving some customers' wages not appearing, as a large number of balances have not been updated since early Wednesday.
Non-NatWest/RBS customers have been hit where their employer banks with them, meaning wages may not be paid. Alternatively, they may be waiting in vain for transfers from Natwest/RBS customers.
Here's the latest at 10.00am, Saturday, 23 June:
The crisis may continue for a few more days. The banks say the underlying problem was fixed on Friday but the knock-on effect for customers continues. The banks haven't given a predicted end date.
Some customers can now see their correct balance, but the banks say "large numbers" still can't.
NatWest customers are worst affected, though many account holders of sister banks RBS and Ulster Bank have also been hit.
The banks say they will refund all charges as a result of the gaffe, even if levied by a third party.
They also say they'll show "discretion" in helping those short of cash, including cash advances in some cases.
Branches will be open on Saturday, many from 9am till 6pm, and also on Sunday from 9am-noon. Many opened until 7pm during the week.
Furious account holders have turned to Twitter and our forums to vent their frustration and look for help.
Twitter user vCJv said on Friday morning: "Due to #natwest technical issue, I'm currently homeless. My house purchase failed to complete. I'll be switching bank ASAP."
Many have reported:
Wages not being paid in.
Transfers not going in or out.
Being unable to view transactions.
An inability to make online payments.
Cash paid in that isn't showing on their statement.
What can you do?
I need cash or need to pay a bill but it says I don't have the funds. If money due is not showing as being paid (such as wages or a bank transfer), the official line is you should contact the bank and it may show "discretion". We've heard reports of customers being given £300 cash where they can prove it's their payday and of being given an extended interest-free overdraft.


I've been hit with bank charges because of a late payment. NatWest/RBS says it will refund ALL charges incurred as a direct result of the meltdown. This includes charges levied by a third party; for example, if you were late paying a non-NatWest credit card or mortgage because your account wrongly showed there wasn't sufficient cash. The independent Financial Ombudsman Service says banks must put you in the position you'd have been without their error.


My employer banks with NatWest and I've not been paid. Talk to your employer to see if it can provide emergency assistance. Also let your bank know and ask for help, plus any companies you need to pay soon, where you think the cash won't be available, to see if they can delay payment.


I can't pay bills with other banks or utility firms. If you've not had money paid in to cover other bills, let those lenders or companies know what's going on. They may be able to delay payment or refund charges. Santander, for example, says it will cancel charges that are clearly a result of the NatWest meltdown.


I've got a black mark on my credit file due to a late payment. NatWest/RBS is still to confirm its policy. James Jones, from credit agency Experian, says you should ask NatWest to remove any default or ask the bank for a letter to provide to a third party, if applied by another firm. If the entry is not corrected you can put a 'notice of correction' on your credit file. He stresses lenders should allow 7-10 days before registering a late payment so this may not become an issue.
What NatWest/RBS says
A NatWest/RBS statement says: "Unfortunately, we are experiencing technical issues with our systems.
"Customers' account balances have not updated properly overnight. If money has gone into an account it may be delayed appearing on their balance.
"This is an unacceptable inconvenience for our customers, for which we apologise.
"We can assure our customers that this problem is strictly of a technical nature and will be fixed as soon as possible. We can also confirm that no customers will be permanently out of pocket as a result of this."
We'll continue to update this story as more information comes to light. Please let us know any questions you want NatWest to answer in the discussion section below.