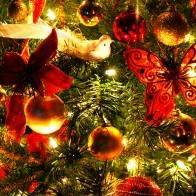 Cash in Christmas savings schemes still isn't safe if the club goes bust, despite a trade association outlining more protection.
The Christmas Prepayment Association (CPA) now insists customers' payments must be placed with an institution authorised by the Financial Services Authority.
This, in turn, means the money will then be protected by the Financial Services Compensation Scheme (FSCS).
But this move would not have saved cash in the failed Farepak and would not protect money in any similar scheme if it was to hit trouble.
The FSCS guarantee only protects cash if the bank or building society housing the money goes bust, not the smaller savings club itself. If a bank, building society or credit union fails, cash is protected up to £85,000 per saver, per financial institution.
Missed opportunity
MoneySavingExpert.com money analyst Dan Plant says: "Don't be fooled into thinking this makes Christmas savings schemes safe – it categorically does not.
"The new rule is a huge missed opportunity, doing absolutely zilch to protect the kind of people who lost out big time when Farepak went bust years ago.
"These schemes will now have to put your money in an authorised bank – well, that's exactly what Farepak did. You're protected in the very unlikely event of a big bank going under, but not if the far smaller savings scheme does.
"If you want to save for Christmas, or for anything else, it is much, much, MUCH safer to cut out the middle man and stash money in a bank yourself."
Farepak failure
£37 million was lost by 120,000 people when Farepak collapsed in 2006. But even though Farepak banked with Hbos, it did little good for victims.
Earlier this month it was announced victims of the failure will be paid back about half the money they lost.
Previously, CPA members were not required to put savers' cash into an FSA-regulated institution, nor did they have to identify which deposits belonged to which saver.
New guidelines
The revised code only applies to CPA members Country Christmas Savings, Family Christmas Savings, Park Christmas Savings, Flexesaver and Variety Christmas Club.
Banking deposits with the Post Office Christmas Savings Club, the sixth and final CPA member, are already covered by the Irish Deposit Guarantee Scheme, which protects any savings of up to €100,000 (£78,000).
It must also be clear to whom each deposit belongs to, make it easy to return the money if an institution failed.