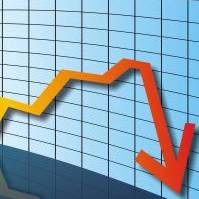 Britain slumped to its longest double-dip recession in more than 50 years today after shock figures revealed the economy shrank by a worse-than-expected 0.7% between April and June.
Gross domestic product (GDP) – a broad measure for the economy – fell for the third quarter in a row and by much more than the 0.2% expected by forecasters, according to the Office for National Statistics (ONS).
The dire performance, which represented the biggest quarterly fall since the depths of the financial crisis in the first quarter of 2009, was hindered by an extra bank holiday for the Queen's Diamond Jubilee and the wettest April to June period on record.
The figure is the ONS's first estimate and may be revised in coming months, but it suggests the UK is mired in the longest double-dip recession since quarterly records began in 1955 and it is believed to be the longest since the Second World War.
Chancellor George Osborne says: "We all know the country has deep-rooted economic problems – these disappointing figures confirm that.
"We're dealing with our debts at home and the debt crisis abroad. We've cut the deficit by 25% and businesses have created 800,000 new jobs.
"We need a relentless focus on the economy and recent announcements on infrastructure and lending show that's exactly what we're doing."