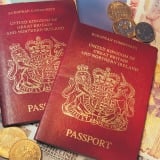 Holidaymakers heading abroad after the summer, or those who won't need their passport for a few months, should consider waiting till September if they need to renew it as the fee will drop.
However, it's possible you may need a passport suddenly for emergency travel, identification, or work purposes, so only delay if you are willing to take the risk or you may have to pay much more for speedy processing.
The fee to get or renew a 32-page UK adult passport via the standard service, which aims to return your passport within three weeks, will fall from £77.50 to £72.50 on 3 September.
It will remain at this price for at least the next two years.
Other fees to fall on the same day are:
A children's passport via standard service, from £49 to £46.
The one-week fast track service, from £112.50 to £103 for adults and from £96.50 to £87 for children.
The four-hour premium service, from £129.50 to £128 for adults and from £109.50 to £106.50 for children.
The price drop comes after a restructuring programme within the Identity and Passport Service made savings of £40 million in the last financial year.