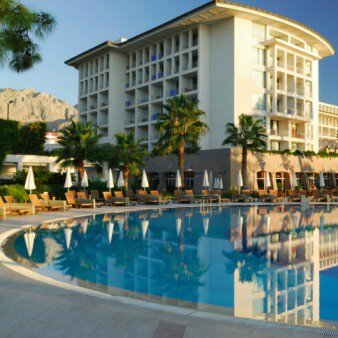 Hotel bookers have been warned to beware hidden fees as many websites fail to disclose all charges upfront.
This can make it incredibly difficult for summer holiday bookers, and other travellers, to compare prices as hotels and travel agent websites do their best to appear cheapest, sometimes by foul means.
And the sneaky nature of these charges can make some rooms look like they cost hundreds of pounds less than they really do for a stay.
An investigation conducted by MoneySavingExpert.com shows many websites display the cost minus taxes and other fees, only to reveal the true price at the end of the booking process.
We found the problem to be widespread across a host of booking sites for stays in many cities worldwide.
Hotel experts say the problem is worst when booking rooms in Asia, though drip-pricing, as the phenomenon is called, is a global problem.
The cross-border nature of hotel-buying makes it difficult to outlaw this practice, with UK authorities slamming the lax approach taken by other countries.
Hidden charges exposed
There are a host of examples of websites hiding the true cost of a stay until customers enter their card details.
In some cases, the first they find out is at the hotel, or on their credit card or bank statement.
This is because websites sometimes say taxes at the relevant percentage rate for that destination apply, on top of the price displayed.
While you can work out the cost, it's not spelt out, so many travellers may not spot this.
Drip-pricing happens both when booking direct with the hotel and using an online travel agent, such as Booking.com or Ebookers.
Below are some examples of drip-pricing.
Hidden hotel charges
Booking site
City/region
Hotel
Upfront price
Real price
Agoda
Bali
Four Seasons, Jimbara Bay
£351
£437
Booking.com
Singapore
Royal Plaza Scotts
£147
£171
Easytobook
Mexico City
Galeria Plaza Reforma
£45
£53
Hilton
London

Hilton London Metropole

£189
£226
Holiday Inn
New York
Holiday Inn, Times Square
$229
$266
Hotelclub
Kuala Lumpur
Park Royal
£54
£63
Venere
Amsterdam

Best Western

£94
£98
All for one night on 27 July, sourced last week, for cheapest room displayed.
Even comparison sites — which present prices from dozens of booking sites to find you the cheapest — often show the price minus taxes. They say they are reliant on getting the correct data from the relevant booking site, so it is not their fault.
Bob Atkinson, from comparison site Travelsupermarket, says: "Companies sometimes look to maximise sales so they don't include taxes where it is not required in the local market.
"The problem is it can happen anywhere on any site. There is no consistency, whether you're talking about the website or the destination.
"We would expect all sites to show the price, including everything that is compulsory. I don't think doing that does anyone any favours."
Sydney Burdick, from price comparison site Trivago, says: "Travel agents make it difficult sometimes. Not everyone is clear.
"We can only go off their prices, so travel agents make it difficult for us to show the real price."
If prices were clear, she adds, "it would make for a much nicer buying experience as no-one wants to find out the amount is not what they thought".
Worse in Asian hotels
While hidden charges can be a problem worldwide, travel experts say those booking a stay in Asia are most at risk.
Not only may you pay taxes, but some hotels there also levy a compulsory "service charge", adding another charge that can be concealed.
Travelsupermarket's Bob Atkinson adds: "Asia is an area where we see consistent issues. The US is pretty good. Top-end UK and Europe is sometimes naughty but there are issues across the world."
The illustrative table above only shows selected examples in Asia, but when we searched for drip-pricing we found more in that continent than anywhere else.
What's more, we found some of the most confusing practices for stays in Asia as you are sometimes shown different costs depending on how you get to the booking site as agents have more room to hide charges.
For example, holidaymakers who use Booking.com, which is the largest such site in the world, according to Travelsupermarket, may be shown a lower 'total price' if they click to it via a comparison site rather than going direct.
We found numerous examples of this practice. For instance, we found five nights at one hotel in Bali came up as $2,325 (US dollars) when going to Booking.com direct.
When clicking to it via Trivago, for the same room on the same dates, it came up with a lower 'total price' of $2,113, but with a note in smaller font further down the page saying "service charge (10%) not included". This makes the real price $2,325, yet this is not made abundantly clear.
Booking.com says price comparison sites insist upon this type of price display, but the comparison services refute that suggestion.
A Booking.com spokesman says: "We believe we are not misleading consumers or otherwise surprising consumers.
"By displaying the rates in line with how our competitors display their rates, we maintain a level playing field, and most importantly, the consumer can easily compare the rates."
What can you do about it?
Consumers need to be aware of hidden charges, so don't always believe the price you see first is the price you'll pay.
Instead, click through to the payment page to check the real price. And watch out for phrases such as "service charge not included" or "taxes not included" as this is likely to mean the true cost will be higher.
Archna Luthra, MoneySavingExpert.com consumer products analyst, says: "It's shocking just how much these sneaky, hidden charges can add to your total cost and frustrating little can be done to outlaw them.
"Holidaymakers should be vigilant when booking to check fees aren't taking them over their budget. Always check the hotel's website direct in case it offers special discounts for booking direct."
See our Cheap Hotels guide for more tips on bagging cut-price accommodation.
What's being done?
A big problem for consumers is there is no one authority that can regulate hotel sales, given you cross many borders when buying.
You can be based in the UK but pay for a hotel in Australia, sold by a company based in the US.
Gillian Edwards, spokeswoman for the Association of British Travel Agents, says: "The UK has been ahead of the game on calling for transparency in travel advertising.
"We have a strong view on this issue and will take prompt action against any our members found to be advertising prices that do not include non-optional charges.
"Other countries, particularly outside the EU, have less stringent requirements on travel companies and they often do not include local taxes and charges in the advertised price."
Yet even where there are laws in place, firms often flout them.
European Union rules state traders should include the "price inclusive of taxes of the product offered for sale".
In theory, these rules apply to any business that operates in the EU or that advertises to EU consumers, though the European Commission accepts it is hard to enforce rules on non-EU firms.
The UK's Office of Fair Trading says: "Businesses that ensure all compulsory charges are included in the headline price are less likely to be subject to OFT enforcement action."
Price comparison sites are also trying to self-regulate the industry.
Trivago says it is "working with travel agents and trying to get them to disclose this information".
Travelsupermarket is working on new technology to identify all charges and has asked companies to include all compulsory fees in the data they supply.
The comparison site says it is "getting a variety of responses", but warns it may exclude those who fail to play ball in future.